Fall Fashion Must-Haves: Vegan Shoes
The following article was written by Audrey Perdue.
If you are a vegan shoe lover like I am, you have just entered paradise! Almost every shoe store now offers vegan options, and now is the perfect time to stock up on gorgeous fall styles.
You can find all the shoes below for under $100, and they are each versatile enough for the office girl who wants to have fun after five o' clock. Whether you're hosting a pumpkin-carving contest, taking a trip for a cozy weekend in the mountains, or going out for a girls' night on the town, you'll find the shoes you need—from trendy to classic, platforms to flats, and bright to nude—right here.
Rock these classic boots with skinny jeans and a stylish cape for almost any occasion.
Toss on these edgy boots with a chunky knit sweater for a cozy weekend outfit.
Tanc booties by American Rag Shoes, $80
These nude platforms are the ideal shoes to take you from workday to night on the town!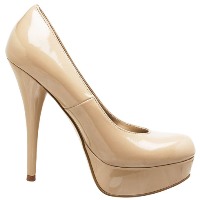 Komet Platform Pump by Brash (available at Payless), $30
These platforms will go perfectly with a mini-skirt, tights, and a chunky sweater for a casual dinner.
Theronn by Michael Antonio, $79
Slide on these leopard flats for pumpkin picking or trick-or-treating.
Leopard Print Flats by Forever21, $18.80
Have a favorite shoe style? Share your fall fashion must-haves in a comment below.
Respond