Whole Body Soak—Washing the Blues Away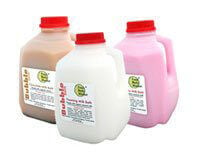 This soothing treatment pampers your skin and sends stress and tension down the drain.
What You Will Need
Bath soak: Aubrey Organics bath soak, Fresh Body Market Coconut Milk Bath, or Arbonne International Bath Salts.
Homemade oatmeal bath soak: Grind 1 cup of oatmeal into a fine powder in a blender.
Candles (optional): Bath Petals Key West Citrus Soy Candle, or Lather aromatherapy candles.
Bath pillow (optional): Bath-and-Body Terry Bath Pillow
CD player and favorite CD (optional)
Note: To enhance your experience, consider lighting candles, playing soft music, and using a bath pillow.
Procedure
Turn on the bath faucet to a comfortable temperature, and fill the bath.
Place the bath soak, salts, or oat powder in the tub, and swish vigorously to disperse the solution before getting in.
Soak in the tub for 15 to 20 minutes.
While in the tub, take deep, long breaths and exhale slowly as you relax, release tension, and feel refreshed.
Rinse your body, towel off, and help yourself to a glass of your spa water.
Respond