Searching for a Cruelty-Free Cure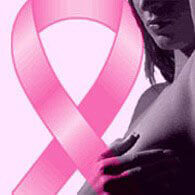 Does your breast cancer charity support animal tests? Work toward a cure with these cruelty-free charities instead.
According to the National Breast Cancer Foundation, every 12 minutes a woman in America succumbs to breast cancer, and it is estimated that more than 215,000 new cases of invasive breast cancer will occur in women this year alone. Experts across the board agree that the key to stopping this epidemic lies in early detection and screening. October is National Breast Cancer Awareness Month, and breast cancer advocacy groups will be stepping up their efforts to gain supporters. Caring people wouldn't think of offering up their beloved companion animals for hideous experiments, so if you're planning on donating time or money to a charity, you'll want to know which groups support cutting-edge non-animal studies and which fall back on cruel, archaic, and unreliable animal tests.
The cruelty-free charities listed here would never throw your money away to fund animal experiments.
The Garland Appeal
37 Meteor Trl.
Andover, NJ 07821
973-347-8808
The Garland Appeal commemorates the life of Linda McCartney, a devoted animal rights activist who died of breast cancer in 1998. The Garland Appeal focuses on "the healing power of music" and funds efforts to increase early detection of breast cancer. Proceeds from The Garland Music Series Vol. 1 album and The Garland Appeal's organically grown, award-winning Cabernet and Chardonnay wines support its projects.
American Breast Cancer Foundation
1220 B E. Joppa Rd., Ste. 332
Baltimore, MD 21286
410-825-9388
The American Breast Cancer Foundation (ABCF) aims "to provide early detection education and screening services to those in need, no matter what age, race, sex, or financial challenge." The ABCF's Key to Life Breast Cancer Screening Assistance Program facilitates mammograms, ultrasounds, and biopsies and gives Post-Breast-Surgery Care Kits to hospitals for use by mastectomy patients.
Avon Breast Cancer Crusade
Avon Products Foundation, Inc.
1345 Ave. of the Americas, 4th Fl.
New York, NY 10105
1-866-505-AVON
Cementing its dedication to helping women in the most relevant ways, Avon's Breast Cancer Crusade strives to benefit all women through research, clinical care, support services, education, and early detection, with an emphasis on reaching medically underserved women, including low-income, elderly, and minority women and women without adequate health insurance. Rather than wasting funds on go-nowhere animal experiments, the Avon Breast Cancer Crusade channels much-needed funds into a growing network of clinical-research, medical, social-service, and community-based organizations.
Breast Cancer Fund
1388 Sutter St., Ste. 400
San Francisco, CA 94109-5400
415-346-8223
The Breast Cancer Fund (BCF) works to identify and eliminate environmental and other preventable causes of breast cancer. The BCF borrowed a page from PETA's tactics book in 2000, when its "Obsessed With Breasts" campaign featured models showing their mastectomy scars and asking, "Society is obsessed with breasts, but what are we doing about breast cancer?"
What You Can Do
Please write to these breast cancer charities that do support animal tests and explain why they should only do animal-free research. Check out PETA's Guide to Letter-Writing for tips on how to make your request as effective as possible.
Breast Cancer Research Foundation
60 E. 56th St., 8th Fl.
New York, NY 10022
1-866-346-3228
646-497-2600
Susan G. Komen Breast Cancer Foundation
5005 LBJ Fwy., Ste. 250
Dallas, TX 75244
1-800-462-9273
972-855-1600
Nina Hyde Center for Breast Cancer Research
(Lombardi Cancer Research Center)
3800 Reservoir Rd. N.W.
Washington, DC 20007
202-687-2222
Respond