10 Great Cruelty-Free Bar Soaps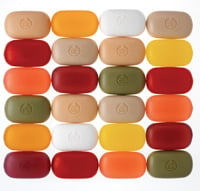 I tend to be a shower-gel type of person, but in an effort to keep packaging to a minimum, I've been trying to make the switch to bar soaps. No matter what your skin type or budget, there is a great cruelty-free bar soap for you. Here are 10 soaps worth checking out:
1. LUSH
LUSH soaps are all handmade with fresh, organic fruits and veggies and have invigorating scents such as ginger, sea vegetable, and even porridge. Vegan products are clearly labeled on the company's website, too, so shopping is a breeze. The soaps are available in LUSH shops and online. Find a store.
2. Kiss My Face
Classic and long-lasting, Kiss My Face soap is the first natural soap I used when I started buying only cruelty-free products. There are several nourishing olive formulas, including chamomile, lavender, green tea, and more. Click here to see the list of their 8 non-vegan products.  Find a store.
3. Clearly Natural
Clearly Natural makes vegetable glycerin soaps that come in a multitude of colors and scents—as well as unscented. They are really gentle on sensitive skin, and there are also special formulas for acne-prone skin. They're available online and at many health-food stores for typically less than $2 a bar.
4. Dr. Bronner's Magic All-One
Available at most health-food stores and online, Dr. Bronner's Magic All-One comes in therapeutic scents such as eucalyptus, peppermint, almond, rose, tea tree, citrus, and lavender. There's even a special mild formula for babies.
5. The Body Shop
Possibly as close as your nearest mall, The Body Shop has tons of fruity and creamy soaps—coconut is my favorite. Find a store.
6. Crabtree & Evelyn
Walking into a Crabtree & Evelyn store is just about as relaxing as using one of the company's natural moisturizing soaps. And the cocoa butter body bar smells like a cookie—but don't eat it! Find a store.
7. Sailor Mouth Soaps
With some of the cutest, most unique soap bars I have ever seen, Sailor Mouth Soaps is definitely worth checking out! From doughnuts to robots, it has a variety of fun scents and shapes.
8. A Wild Soap Bar
Take a wash on the wild side with A Wild Soap Bar! The passionflower soap relieves anxiety, while the black willow bark soap helps with acne and doubles as a deodorizer! With a variety of scents and ingredients, you're sure to find a bar that fits your needs. Find a store.
9. Palmer's
For problematic and acne-prone skin, try Palmer's Skin Success complexion bar. It will help you have—as its namesake suggests—skin success! Great for shopping on a budget, one bar is typically around $2.
10. Tom's of Maine
Available in moisturizing, clear, and deodorant varieties, Tom's soaps are popping up in major department and drugstores everywhere these days. They're great because they're long-lasting.
Respond