PETA India's Wedding Gift to Russell and Katy
Written by
October 27, 2010
|
Comedian, actor and longtime animal defender Russell Brand married singer Katy Perry in India's Ranthambhore National Park earlier this week and received an unusual wedding gift from PETA India: a formerly oppressed and now liberated bullock.
Named Russell in honor of the groom, the bullock is no longer forced to spend day after day hauling backbreaking loads—he now lives at a retirement center operated by Animal Rahat, a relief program supported by PETA and PETA India.
Russell (the bullock) had been severely overworked and was very weak when he was rescued, but he is now roaming grass fields and enjoying liberation from the heavy wooden yoke that used to press down on his neck as he pulled a cart in the heat and dust.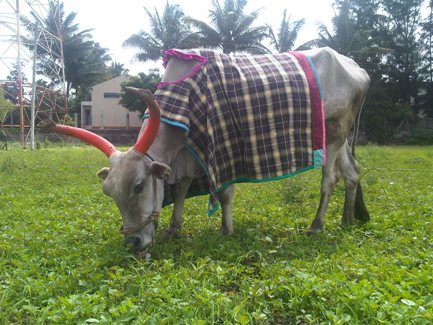 "Russell the celebrity and Russell the bullock have something in common: They are both very handsome fellows," says PETA India's Poorva Joshipura. "The gift of a namesake is also fitting because just as Russell Brand embarks on his new life as a married man, Russell the bullock has also been given a new lease on life—the heavy loads he once pulled have been lifted from his shoulders for good."
Written by Alisa Mullins
Respond