Oil Dependence Hurts Bulls Too
Written by
September 20, 2011
|
I thought living downwind of the reeking refineries in east Houston reflected badly on the oil industry, but that's just a mere annoyance compared to the suffering of bulls at the hands of oil companies in India. That's why one of our friends from PETA India took over the stage at the Oil and Gas Review Summit and International Exhibition in Mumbai to urge India's wealthy oil biz leaders to replace carts drawn by bulls with modern, non-animal forms of transport. The PETA India staffer was dragged out of the conference—chanting "Shame!"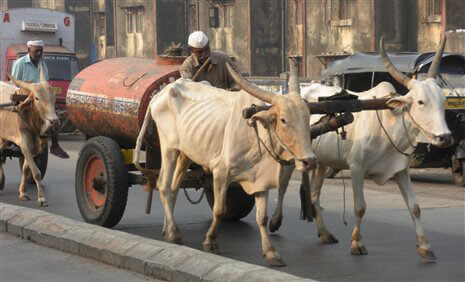 Let's hope that she opened some eyes (and hearts). Most of the bulls used to transport fuel from oil ports to rationing stations in Mumbai are underfed and malnourished and kept in filthy conditions, and many suffer from chronic inflammation, maggot-infested wounds, infections, or intestinal problems. They are forced to work until they are exhausted, pulling heavy loads through all weather extremes.
To learn how you can help end these bullocks' suffering, see PETA India's action alert and please make a donation to Animal Rahat, which was created to make a difference in the lives of working bullocks, donkeys, ponies and horses.
Written by Jeff Mackey
Related Posts
Respond
Comments
If your comment doesn't appear right away, please be patient as it may take some time to publish or may require moderation.
By submitting this form, you are agreeing to our collection, storage, use, and disclosure of your personal info in accordance with our privacy policy as well as to receiving e-mails from us.