'Married to Rock' Rocks New Anti-Fur Ad
Written by
December 17, 2010
|
Can't get enough of this smokin' new PETA "Ink, Not Mink" ad featuring supermodel Susan Holmes McKagan and her Guns N' Roses hubby, Duff McKagan? Tune in to watch the stars of Married to Rock on E! Sunday, December 19, at 10:30 p.m. ET and see the sizzling behind-the-scenes shoot.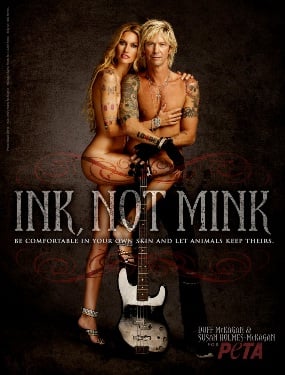 First Chad Ochocinco, then Willis McGahee, and now this? Is it getting hot in here?
Written by Jennifer O'Connor
Related Posts
Respond
Comments
If your comment doesn't appear right away, please be patient as it may take some time to publish or may require moderation.
By submitting this form, you are agreeing to our collection, storage, use, and disclosure of your personal info in accordance with our privacy policy as well as to receiving e-mails from us.