To be honest, I haven't paid much attention to the NFL since Barry Sanders stunned the football world and retired, but even I know about Chad Ochocinco. Now, the Cincinnati Bengals' mighty Number 85 has become the latest star to bare his impressive physique—and tats, of course—for PETA's "Ink, Not Mink" campaign.
How bare? Well, since this is a family-friendly blog, here's the PG version: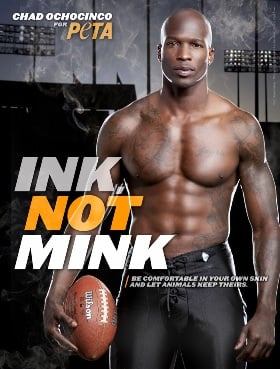 If you want to see more, you'll have to check out this feature.
So why does The Ultimate Catch want you to reject fur? "To tell you the truth, when I was younger growing up, I thought it was all fake―they didn't really kill animals," Chad said. "So once I found out what really happens, I had the opportunity to do this, so I really wanted to become part of it. "But I wanted to get involved with the campaign basically because I'm an avid animal lover. You know, I have pets of my own―I've had them since I was a little kid. Animals always want to pick you up, no matter what."
Written by Jeff Mackey