Hocus-Pocus! Tarzan Zerbini Circus Trying to Pull a Fast One
|
The Tarzan Zerbini Circus, which is often under contract with the Shriners and also tours throughout Canada, has applied to the U.S. Fish & Wildlife Service (FWS) to renew its traveling exhibition certificates to export and re-import two endangered Asian elephants, Schell and Marie, to and from Canada.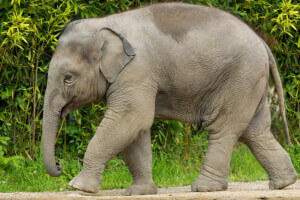 But wait. The FWS cannot lawfully approve the permit requests because the circus is a chronic violator of the Animal Welfare Act. The circus has also failed to demonstrate that exporting and re-importing Schell and Marie will enhance the propagation or survival of the species—something that the regulations require.
Tarzan Zerbini's track record speaks for itself. The feds have assessed civil penalties at least three times, and it has also been cited for keeping an elephant chained all the time and for feeding elephants nothing but bread, hay, and weeds.
What You Can Do
Please take a moment to urge the FWS to deny Tarzan Zerbini Circus' permit applications (DMAFR@fws.gov). Be sure to include the permit numbers in the subject line: PRT-065146 and PRT-065149. Here is some suggested text, although using your own words is always best:
"I am writing to urge you to deny Tarzan Zerbini Circus' applications for permits to export endangered Asian elephants for use in the circus abroad, given the circus's long history of animal welfare violations and of exposing the public to tuberculosis."
Respond