Steve-O's Flippin' Pizza, Plus a Chance to Win
|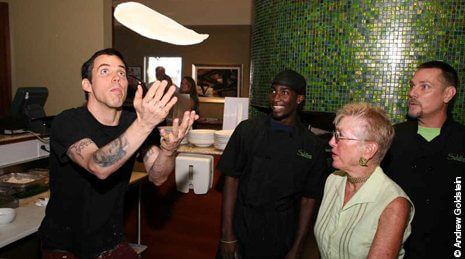 Steve-O flips pizza with Nanci Alexander at her restaurant, Sublime, in south Florida.
 
In honor of Culinarians Day, we've whipped up a list of some of our favorite vegan celebrity chefs, chefs who cook for celebrities, and cruelty-free restaurants where you might just catch celebrities chowing down. Tasty! Check it out:
One lucky reader can win the Skinny Bitch Ultimate Everyday Cookbook. For a chance to win, just leave a comment telling us who your favorite vegan celebrity is.*
 
Written by Colleen Twombly-Borst
* The contest will end on August 1, 2011, with the winner chosen at random from those entries that identify a vegan celebrity on August 3. Be sure to read our privacy policy and terms and conditions, as you're agreeing to both by commenting.
Related Posts
Respond
Comments
If your comment doesn't appear right away, please be patient as it may take some time to publish or may require moderation.
By submitting this form, you are agreeing to our collection, storage, use, and disclosure of your personal info in accordance with our privacy policy as well as to receiving e-mails from us.