Urge Coach to Dump Fur!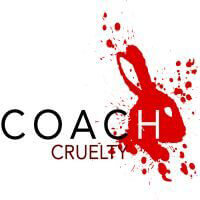 Luxury fashion design company Coach refuses to stop selling fur, despite the fact that PETA has repeatedly explained to company executives that animals on fur farms live in cramped, filthy conditions before they are bludgeoned, electrocuted, and sometimes even skinned alive. Animals who are trapped in the wild may suffer for days before trappers arrive to crush their chests or stomp or beat them to death.
Coach lags behind other fashion-industry leaders who have dumped fur, such as Polo Ralph Lauren, Stella McCartney, Vivienne Westwood, Calvin Klein, Betsey Johnson, Gap Inc., Nike Inc. (including Cole Haan), and Liz Claiborne Inc. (including Juicy Couture and Coach competitor Kate Spade).
Millions of animals who are cruelly trapped, farmed, and killed for their fur every year around the world need your help now. Please politely write to Coach and demand that it join the dozens of other top designers and retailers who have dumped fur.
Please send a message to Coach's CEO, Lew Frankfort, at lfrankfort@coach.com, and urge him to end its sale of fur immediately and implement a fur-free policy. Please also consider writing to or calling Coach by using the following information:
Coach, Inc.
516 W. 34th St.
New York, NY 10001-1394
212-594-1850