PETCO Program Sends Pet Turtles to Meat Farm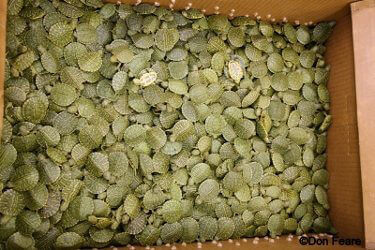 Pet turtles are linked to salmonella, which is why sale of baby turtles who are less than 4 inches in size has been banned in the U.S. since 1975. But recent headlines about salmonella outbreaks linked to pet turtles have prompted retail giant PETCO to launch a "turtle relinquishment program." Deceptively calling this "a partnership with the CDC" (the Centers for Disease Control and Prevention does not endorse PETCO's program and most certainly isn't a "partner"), PETCO solicits free turtles from the public and ships them to its own turtle supplier, Concordia Turtle Farm in Louisiana. PETCO informed PETA that people relinquishing turtles are told that the animals will "get to grow up" at Concordia—however, according to PETCO, they are are then recycled back into the pet trade. PETCO attempts to pass this off as "good will," but getting something for free and then reselling it is obviously a profitable venture!
Concordia calls itself "the largest commercial turtle farm in the United States," housing "nearly 200,000 adult turtles" in only 17 ponds and raising about 60,000 turtles "exclusively for PETCO." But Concordia ships more than 2 million hatchlings overseas annually, mostly to China, for slaughter. Your voice is desperately needed.
The average lifespan of aquatic turtles is 25 years, and regardless of their size, there is always a risk of salmonella infection from handling them. PETCO should not be selling them to begin with, let alone recycling them back into the pet trade and/or doing business with a massive turtle meat factory farm! Please urge PETCO CEO James Myers to stop perpetuating the suffering of turtles.
Please send polite comments to:
Mr. James Myers
CEO of PETCO
jimm@petco.com