Ask Gretna, Virginia, to Stop Extreme Cruelty to Pigeons!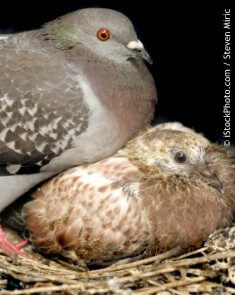 In an effort to decrease the local pigeon population, the town of Gretna, Va., is reportedly cage-trapping birds who roost in its downtown area, storing them inside the traps for up to a week, then handing them over to a local hunter for dog-training purposes! Trapped/stored animals suffer badly from stress, dehydration, and exposure. But then to be used as bait just compounds the horror. "Bait birds" are crammed into dark boxes, denied sustenance, and then released near food and water sources. Some birds' wings are clipped or restrained with fishing line so that they cannot fly to safety. Others are "stashed" under bushes for dogs to find or are loaded into launchers and "shot" across fields. Desperate and off-guard, they are then set upon by dogs, and many mauled birds don't die quickly.
Please urge Gretna officials to halt this cruel initiative and stick with humane pigeon control instead. And please forward this alert far and wide.
Send polite comments to:
The Honorable Glenna T. Lingafelt
Mayor of Gretna
434-656-6572
townhall@townofgretna.org
The Honorable Gretna Town Councilors Michael L. Bond, Steven T. Gibson, James D. Gilbert, R. Keith Motley, Charlotte E. Scruggs, and Wayne Wood
434-656-6572
wendy.scearce@townofgretna.org