Across the country, lawmakers are considering "ag-gag" bills, which, if passed, could subject whistleblowers and undercover investigators to criminal prosecution for their efforts to expose animal abuse on factory farms and in slaughterhouses. By making it a crime to film on factory farms or requiring that evidence of cruelty to animals be turned over almost immediately, these bills could stop vital undercover work that exposes routine abuse of animals in the factory-farming industry.
Learn how you can help keep these vital investigations legal in YOUR state.
Read Transcription
ALL KIDS: The story of "ag-gag"!
ONE KID: It all started back in ancient times!
TITLE CARD: 2011
PETA KID: Hello! I'm PETA! Me and groups like me have been exposing animal abuse for decades! That's like a million days!
BIG AG KID: MWAHAHAHAHAHAHA! I'm Big Agriculture, and I don't want anyone to see me abuse animals.
BIG AG KID (to camera): Hey! Don't look!
BIG AG KID: I need to keep people from seeing this abuse, but how? Hmmmm … GASP!
CONGRESS KIDS: We're state legislators!
BIG AG KID enters with a paper reading "AG GAG BILL"
BIG AG KID: Hi, state legislators. Let's make it illegal to record animal abuse on farms!
UTAH CONGRESS KID: That doesn't sound very constitutional …
BIG AG KID pulls out a second paper/money sack that says: Campaign Contributions $$$
IOWA CONGRESS KID: I'll make it illegal for an investigator to enter a farm!
MISSOURI CONGRESS KID: I'll make investigators hand video footage over within 24 hours so that it's impossible for police and prosecutors to prove long-term abuse!
IDAHO CONGRESS KID: I'll make it illegal to film without permission!
UTAH CONGRESS KID: I'll make "agricultural interference" a crime. That could be anything!
BIG AG KID and CONGRESS KIDS dance.
HARD CUT in to BIG AG KID.
BIG AG KID: Now on to the rest of the country!
HARD CUT to PETA KID on a cardboard phone.
PETA KID: They did what? We'll need help!
HARD CUTs to different characters and back to PETA KID.
LAWYER KID: I'll help!
PETA KID: Thanks!
ACTIVIST KID: I'll help!
PETA KID: Thank you!
COW: Moo.
PETA KID: Thanks, cow!
REPUBLICAN KID AND DEMOCRAT KID: We'll help!
PETA KID: Awesome!
MOVIE STAR KID: I'll help!
PETA KID: Woooow!
PIG: Oink.
PETA KID: We've got a lot of people on our side, but we need you! Big industries are trying to take away constitutional rights so that they can abuse animals without anyone knowing about it. But we won't let them. We've already defeated these bills in 17 states, and the fight's not over yet. We need you! The path to a better tomorrow isn't through closed doors. It's through open windows and transparency and free speech for all. Help us! Defend animals! Defend people! Defend the Constitution! Let's go!
Get PETA Updates
Stay up to date on the latest vegan trends and get breaking animal rights news delivered straight to your inbox!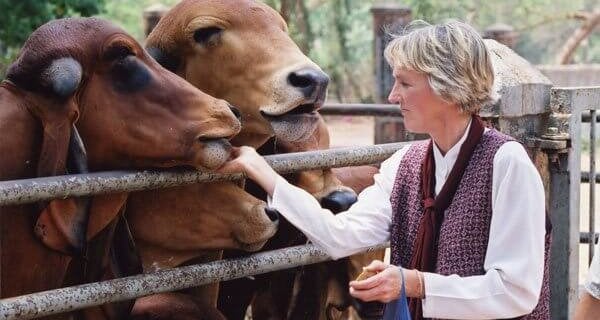 "Almost all of us grew up eating meat, wearing leather, and going to circuses and zoos. We never considered the impact of these actions on the animals involved. For whatever reason, you are now asking the question: Why should animals have rights?" READ MORE
— Ingrid E. Newkirk, PETA President and co-author of Animalkind