Published by .
A shout-out to all the teen activists out there who are stepping up to the plate and creating the change they want to see—of course, that includes a world free of speciesism. Why? Because speciesism is a human-supremacist line of "reasoning" used to defend the treatment of other living, feeling beings like research tools, fabric, toys, or even food ingredients—even though we all have similar needs and desires. No one deserves to suffer—especially when we can use other resources that aren't harmful to animals.
Young voices are extremely important—and we've seen countless examples of compassion, courage, and empathy from the student activists we're rooting for. We wanted to share a bit about the things that they're doing to inspire others to take action for animals—here are just a few ways awesome teens are working to end speciesism:
They're shunning products tested on animals and informing others that they should do the same:
They're telling others why speciesism should cease to exist:
And making presentations in school to spread the word about animal rights:
Teens are also starting animal rights clubs with likeminded, compassionate individuals—remember, there's power in numbers, people👊:
They're holding donation drives for animals in shelters:
Protests at SeaWorld are a no-brainer for students standing up against speciesism:
Young folks are helping their friends and classmates go vegan and even cookin' them up some bomb vegan food:
They're pledging to adopt—and never buy—animals:
They're standing up against the cruel rodeo, too:
Vegan bake sales are a great way for students to raise money for farm sanctuaries, where animals can live free from harm:
Student activists work hard and have fun while teaching others how to prepare their own vegan food:
And they're speaking out against dissection:
*****
Feeling inspired yet? Teens, we applaud you for taking a stand at such a young age. Continue being change-makers, and inspire others to follow suit by demonstrating compassion and empathy toward animals. With education and perseverance, y'all can do it! Treat yourself to a vegan cookie or two—you deserve it.🍪 What are you doing to help #EndSpeciesism?
Our "End Speciesism" sweatshirt is a sure conversation starter and a great way to broaden people's vocabulary while letting them know that a difference in species can never justify exploitation or oppression in the name of science, food, clothing, or entertainment.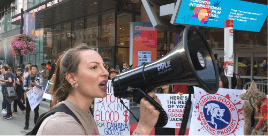 How to Organize Your Own Protest
Are you a student who wants to make a direct change for animals? Take it to the streets by holding a protest! We will help you every step of the way.