Vegan
Savory Stuffed Squash (Video)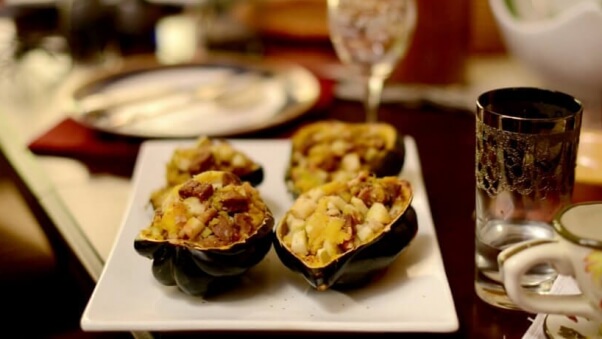 Print
Ingredients
2 oz.

vegan margarine, plus extra for brushing the squash

2 Tbsp.

maple syrup, plus extra for brushing the squash

Pinch

ground cinnamon

Pinch

grated nutmeg

1/4 tsp.

salt

1/4 tsp.

black pepper

2

1-lb. squash (acorn or winter squash work well), cut in half lengthwise and seeded

2

vegan sausages, sliced

1

green apple, peeled and chopped

1/4 cup

finely chopped walnuts
Instructions
Preheat the oven to 350°F.
Melt the vegan margarine in a small saucepan over low heat or in the microwave and stir in the maple syrup, cinnamon, nutmeg, salt, and pepper. Spoon into the seeded squash halves and bake for about 40 minutes, or until you can pierce the skin with a fork.
Pour the margarine mixture from the center into a medium bowl. Scoop out some of the cooked squash flesh with a spoon, making sure to leave enough at the bottom so that the squash hold their shape, and add to the bowl. Add the vegan sausages, apples, and walnuts and mix until well combined. Fill each squash half with the mixture, then brush with vegan margarine and maple syrup. Cover with foil and bake for another 35 to 40 minutes.
Makes 4 servings