Vegan
Wild Mushroom Tarts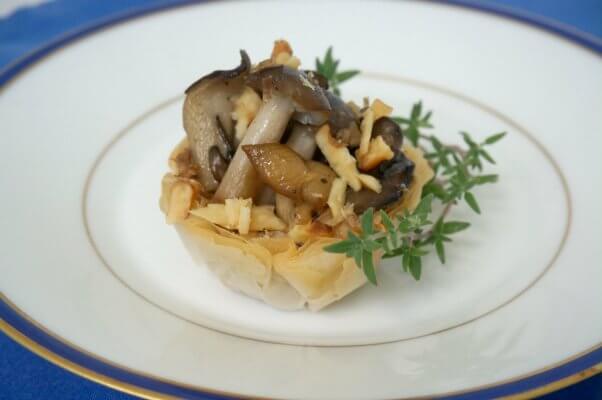 Print
Ingredients
1 pkg.

vegan phyllo pastry sheets

3 Tbsp.

vegan cream cheese (chive flavor)

1/4 cup

toasted walnuts, finely chopped

1 cup

chopped wild mushrooms

1 tsp.

olive oil

1 sprig

thyme, chopped (optional)
Instructions
Preheat the oven to 350°F.
Defrost 3 to 4 layered phyllo sheets, cut into 4-inch squares, and use to line a muffin tin.
Blend the vegan cream cheese and  Tartex pâté.
Stir in the walnuts, setting aside a few for garnish.
Add the pâté mixture to the phyllo-lined muffin tin.
Sauté the wild mushrooms in the olive oil until browned and layer on top of the pâté.
Bake for 20 minutes or until browned. Garnish with chopped walnuts and thyme, if using.
Makes 6 to 8 tarts
Recipe adapted from Plant-Based Foods, Inc.