Vegan
White-Bean Fettuccine Alfredo
Prep Time

5 minutes

Cook Time

15 minutes

Servings

1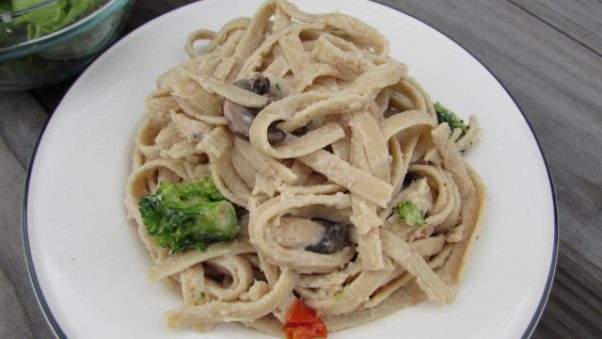 Print
Ingredients
2

Tbsp. vegan butter

1

clove garlic, chopped

1/4

cup chopped broccoli florets

1/4

cup sliced mushrooms

1

15-oz. can white beans (also known as Great Northern beans), drained and rinsed

1

tsp. lemon juice

1

Tbsp. nutritional yeast

1/2

cup almond milk

2

oz. dried fettuccine

1

tomato, chopped
Instructions
Melt the vegan butter in a large pan. Add the garlic, broccoli, and sliced mushrooms. Cook over medium heat for 2 to 3 minutes.
Remove the broccoli and mushrooms, then set aside. Pour the melted butter and garlic into a blender. Add the white beans and blend for 5 seconds. Add the lemon juice, nutritional yeast, and almond milk and blend until completely smooth. Transfer to the large pan and cook over medium heat until warm.
Bring a large pot of water to a boil and cook the fettuccine according to the package directions. Drain the pasta, then return to the pot. Pour the white-bean Alfredo sauce over the pasta and add the broccoli, mushroom slices, and tomato.
Enjoy!