Vegan
Vegan Stuffed Marinated Collard Greens from 'Ohhdelcious' Cookbook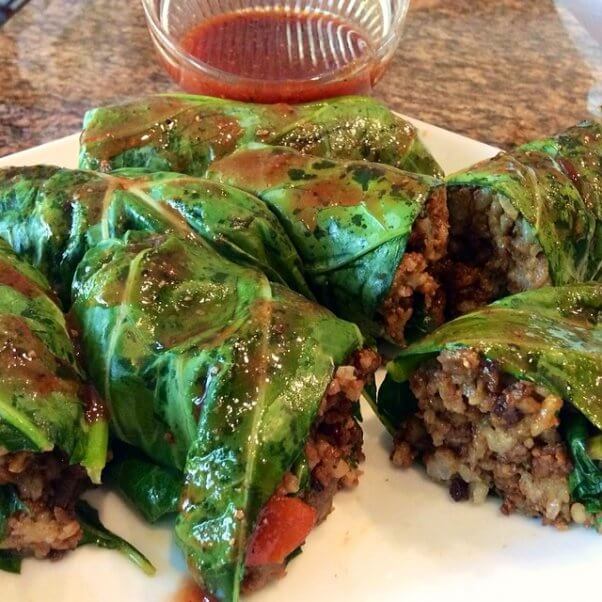 Print
Ingredients
1/3 cup

freshly squeezed orange juice

3 Tbsp.

rice vinegar

4 cloves

garlic, minced

4 Tbsp.

tamari or soy sauce

1 bunch

collard greens (about 12 leaves), stalks discarded and leaves preserved in large pieces

1 Tbsp.

coconut oil

1 pkg.

Beyond Meat Beefy Crumble

1

large onion, chopped

2

stalks celery, chopped

2

medium carrots, chopped

1

jalapeño, seeded and diced

1

tsp. basil

1

tsp. thyme

Pepper, to taste

1 cup

vegetable broth

1/4 cup

fresh parsley leaves, chopped

1 cup

cooked brown rice, wild rice, or quinoa
Instructions
In a large bowl, combine the orange juice, rice vinegar, 1 clove garlic, and 3 tablespoonfuls of the tamari or soy sauce and mix until combined. Add the collard greens and mix until well coated. Set aside until the collards begin to break down, about 5 minutes, then carefully transfer the leaves to a baking sheet lined with paper towels.
Heat the oil over medium heat in a heavy-bottomed pan.
Add the vegan beef crumbles and sauté until browned. Add the remaining garlic and tamari or soy sauce as well as the onion, celery, carrots, jalapeño, basil, thyme, and pepper and cook for about 3 minutes.
Add the vegetable broth and mix well. Stir in the parsley and cooked brown rice, wild rice, or quinoa and simmer until the broth is reduced and excess moisture has been absorbed.
Arrange a reserved collard leaf on a work surface and top with ⅓ cup of the prepared filling.
Roll up the leaf, starting with a long edge, and tuck in the ends, like a burrito.
Repeat with the remaining collard leaves, serve, and enjoy!
Makes 6 servings
Adapted from Ohhlicious cookbook