Vegan
"Pulled Pork" Jackfruit Sliders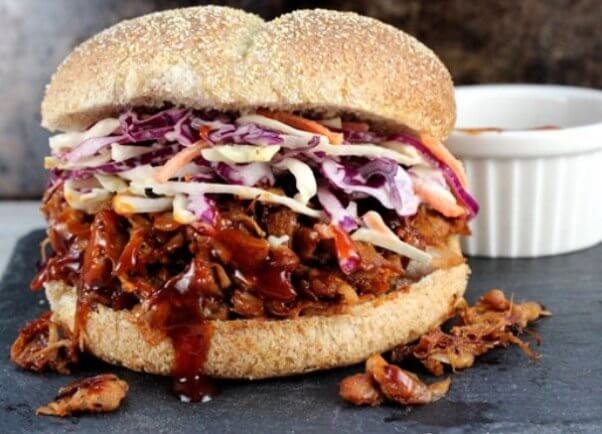 Print
Ingredients
3

20-oz. cans jackfruit in brine or water, drained and rinsed

1

small onion, chopped

1 tsp.

olive oil

3 cloves

garlic, minced

1 1/2 tsp.

liquid smoke

1 tsp.

ground cumin

1/4 tsp.

cayenne pepper

1 tsp.

chili powder

1 tsp.

paprika

1 cup

vegetable broth

1/2 cup

barbecue sauce (one with a smoky or tangy flavor is recommended)

4

buns or rolls
Instructions
Preheat the oven to 400°F.
Cut the jackfruit cores from the flesh and discard. Pull the jackfruit flesh apart until a shredded consistency is achieved. Set aside.
Using your fingers, press the jackfruit upward to remove the seeds. Don't worry about getting out every last seed, but try to remove most.
In a large pan, sauté the onion in the olive oil. Add the garlic and sauté a bit longer. (Be careful not to burn the garlic.) Add the jackfruit, liquid smoke, and seasonings. Mix well.
Pour in the vegetable broth, then cover and simmer for 10 to 15 minutes, or until all the liquid has been absorbed. (If you don't have a cover, simply simmer longer.)
Spread the mixture out on a nonstick baking sheet, then pop in the oven and bake for 20 minutes.
Remove from the oven and drizzle with the barbecue sauce. Return the pan to the oven and cook for another 10 to 15 minutes, or until the mixture browns on top.
Place a spoonful of the jackfruit on one half of a bun or roll, then top with the other half. Serve with coleslaw.
Makes 4 servings
Add Erin's coleslaw.
For more delicious recipes and inspiration from Erin Coscarelli of NFL Network's Fantasy and Friends, visit her Instagram and Twitter pages.