Vegan
Vegan Caramel Popcorn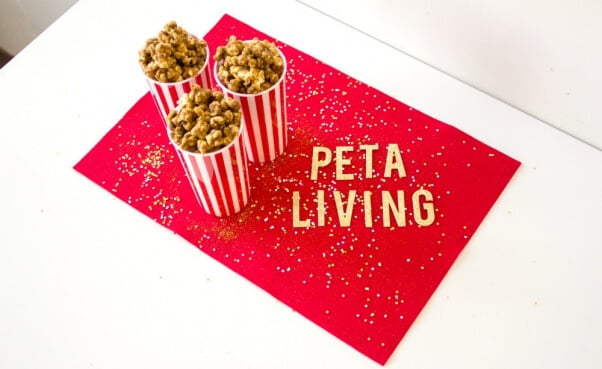 Print
Ingredients
1/4 cup

refined coconut oil or other high-heat oil

1/4 cup

popcorn kernels

3/4 cup

vegan butter

1 cup

packed brown sugar

1/2 tsp.

baking soda

1 tsp.

vanilla extract

1/2 tsp.

salt (optional)
Instructions
Preheat the oven to 250ºF, using convection mode if you have it.
Pour the coconut oil in a large pot, add one popcorn kernel, and cover. Once the kernel pops, immediately add the rest of the kernels. Keep heating until there is 2 seconds between pops. Transfer to a 9-inch-by-13-inch or larger cake pan or glass casserole dish.
In a small pan, melt the vegan butter and add the brown sugar. Cook over medium-high heat, stirring continuously, until the mixture bubbles and rises a little bit, about 3 minutes.
Add the baking soda, vanilla extract, and salt. Stir to incorporate, then pour over the popcorn. Stir to coat. Bake for 1 hour, stirring once halfway through.
Makes about 8 cups
[peta-video youtube="I1iBJsMFois"]