Vegan
Watch: Vegan Calamari Recipe by hot for food
Prep Time

15 minutes

Cook Time

20 minutes

Servings

25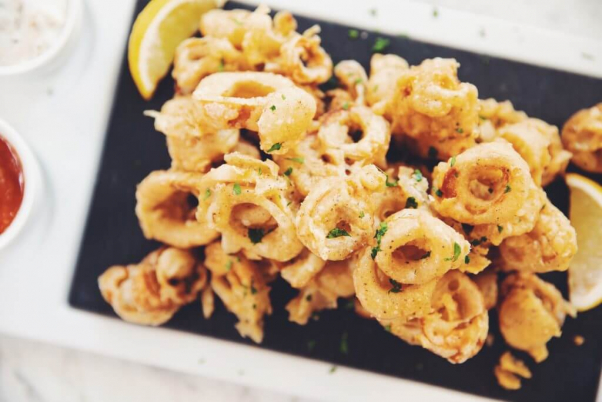 Print
Ingredients
3-4 king oyster mushrooms

Vegetable oil, for frying

1/2 cup all-purpose flour

1/2 cup cornstarch

1/8 tsp. ground cayenne pepper

1/8 tsp. smoked paprika

1/4 tsp. garlic powder

1 tsp. sea salt

1 tsp. ground black pepper

1 cup club soda

Juice of 2 lemon wedges

Chopped parsley, for garnish (optional)

Vegan tartar sauce (optional)
Instructions
Remove the mushroom tops and cut the stems into 1/8- to 1/4-inch rounds.
Punch a hole about 1/2 inch in diameter in the center of each piece. Keep the punched-out circles to be battered and fried with the rings.
Add at least 2 inches of oil to a deep fryer or large flat-bottomed pot. Heat to 350°F. (hot for food recommends attaching a thermometer.)
In a medium-size bowl, whisk together the flour, cornstarch, cayenne pepper, smoked paprika, garlic powder, sea salt, and ground pepper until mixed well. Slowly whisk in the club soda until the mixture reaches the consistency of pancake batter.
Add the mushroom pieces to the batter and toss until well coated. Tap the excess batter off and gently add a couple pieces at a time to the heated oil.
Separate with a wooden spoon or chopstick while frying to keep from sticking together.
When the mushrooms rise to the surface, after about 2 minutes, flip and fry the other sides for another 2 minutes, or until golden-brown.
Remove with a slotted spoon and place on a large plate or baking sheet lined with paper towels. Repeat until all remaining mushroom pieces are fried. Squeeze over the lemon juice and sprinkle with the parsley, if using.
Serve with a homemade vegan tartar sauce for dipping, if desired.
Tip: To make an easy vegan cocktail sauce, combine 1/2 cup ketchup and 2 tbsp horseradish. You can also add a bit of lemon juice, hot sauce or garlic, if desired.