Vegan
Strawberry Lemonade Cupcakes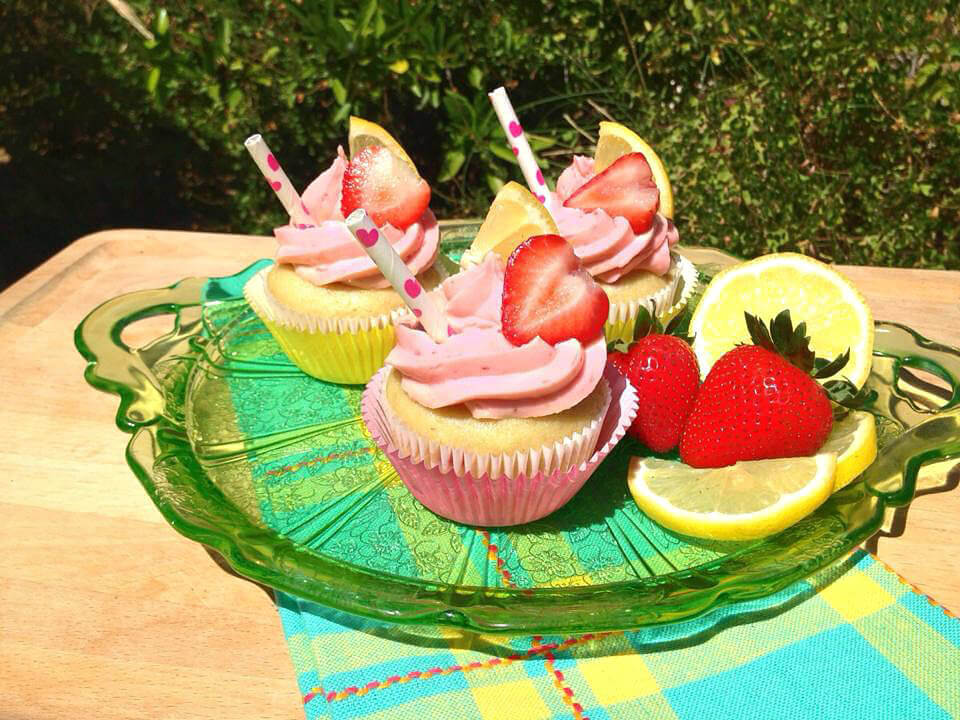 Print
Ingredients
For the Cupcakes:
3/4 cup

nondairy milk (try soy, almond, or coconut milk)

Juice and zest of 1 1/2 lemons

2/3 cup

organic sugar

1/3 cup

vegetable oil

1 tsp.

lemon extract (optional)

1 1/2 cups

flour

1 Tbsp.

cornstarch

1/2 tsp.

baking soda

3/4 tsp.

baking powder

1/4 tsp.

salt

1/2 cup

finely chopped strawberries
For the Frosting:
1/3 cup

finely chopped strawberries

Juice and zest of 1 lemon

3/4 cup

cold vegan margarine (try Earth Balance)

1/2 tsp.

lemon extract

2 1/2 cups

sifted organic powdered sugar
Instructions
Preheat oven to 350ºF.
In a medium-sized bowl, combine the nondairy milk, lemon juice, lemon zest, sugar, oil, and lemon extract and whisk vigorously until well mixed.
In a separate medium-sized bowl, sift together the flour, cornstarch, baking soda, baking powder, and salt. Mix well, then pour the dry ingredients into the wet ingredients and combine with a spoon. Add the strawberries and stir.
Pour into a muffin pan lined with cupcake liners. Fill each liner two-thirds full.
Bake for 16 to 18 minutes, or until a toothpick inserted in the center comes out clean.
To make the frosting, combine the strawberries and 3/4 of the lemon juice and zest in a saucepan. Cook on medium-high heat for about 5 minutes, stirring constantly until the mixture thickens. Place in the refrigerator to cool. Whip the cold vegan margarine for 5 minutes using a hand or electric mixer. Add in the remaining lemon juice and zest, the refrigerated strawberry mixture, and the lemon extract and whip again until combined. Add in the powdered sugar 1/2 cup at a time until everything is combined.
Frost the cupcakes and garnish with a halved strawberry, lemon wedge, and halved drinking straw. Enjoy!
Written by Ashley Welsh, a vegan baker for Rincon Market in Tucson, Arizona.