Vegan
Easy Vegan Spinach Dip | Spork Foods for PETA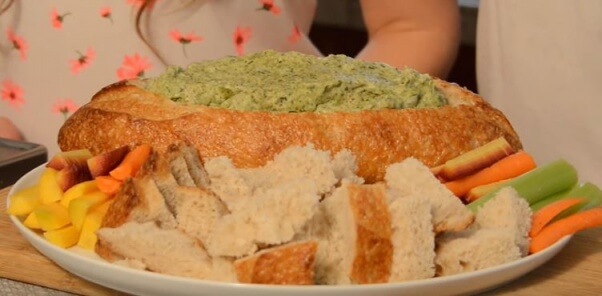 Print
Ingredients
1 Tbsp.

extra virgin olive oil

4 cups

organic baby spinach leaves, tightly packed

2–3

cloves garlic, finely chopped

1 cup

roasted and unsalted cashews

1/3 cup

unsweetened almond milk

1/4 cup

fresh lemon juice

1/2 cup

nondairy mayonnaise (try Vegenaise)

1 (12-oz.)

container organic silken or soft tofu

1/2 tsp.

sea salt, plus more to taste

1/2 tsp.

finely ground black pepper

2 tsp.

dried minced onion

1 can

whole water chestnuts, diced

Round loaf of organic bread, hollowed out to make a bowl
Instructions
Preheat the oven to 450°F.
Heat a sauté pan over medium-low heat and add olive oil. Add the spinach and garlic and sauté until wilted, about 3 to 4 minutes. Tilt the pan and drain off the additional liquid.
In a high-powered blender or food processor, place the cashews, almond milk, and lemon juice and blend until smooth and creamy. Add the nondairy mayonnaise, silken tofu, sea salt, pepper, and onion. Pulse about 7 to 10 times. Add the cooked spinach and pulse until slightly green but not fully incorporated.
Fold in the water chestnuts. Transfer the entire mixture to a heat-proof baking dish. Bake about 15 to 20 minutes, or until warmed through.
Serve inside the bread bowl with raw veggies. Reserve the middle of the bread for dipping.
Makes 6 to 8 servings
© Spork Foods, 2012
[peta-video youtube="Me77K81x_Rw"]