Vegan
Spicy 'Chicken' Sandwich
Prep Time

5 minutes

Cook Time

5 minutes

Servings

1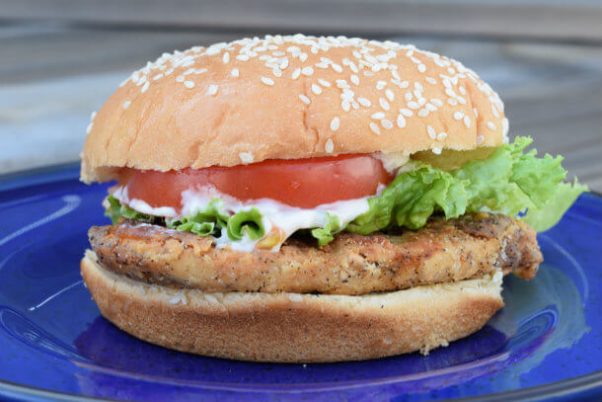 Print
Ingredients
1/4

cup hot sauce (we like Frank's RedHot Original Cayenne Pepper Sauce)

2/3

cup unsweetened nondairy milk

1

cup flour

1

Tbsp. cornstarch

2

1/2 tsp. salt

1

tsp. onion powder

1

tsp. garlic powder

2

Tbsp. pepper

1

vegan chicken cutlet (try Gardein's Chick'n Scallopini)

Vegetable oil, for frying

Vegan mayo

1

hamburger bun

2

lettuce leaves

1

tomato slice
Instructions
Combine the hot sauce and nondairy milk in a bowl.
In another bowl, mix together the flour, cornstarch, salt, onion powder, garlic powder, and pepper.
Dip the vegan chicken in the hot sauce mixture and then coat well with the flour mixture.
Heat the oil in a small pan over medium heat. Fry the vegan chicken for 8 to 12 minutes, flipping every couple minutes, then set aside.
Spread the mayo on each half of the bun. Place the vegan chicken on the bottom half of the bun, followed by the lettuce and tomato, and top with the other bun half. Enjoy!