Vegan
Roasted Chili and Corn Tamales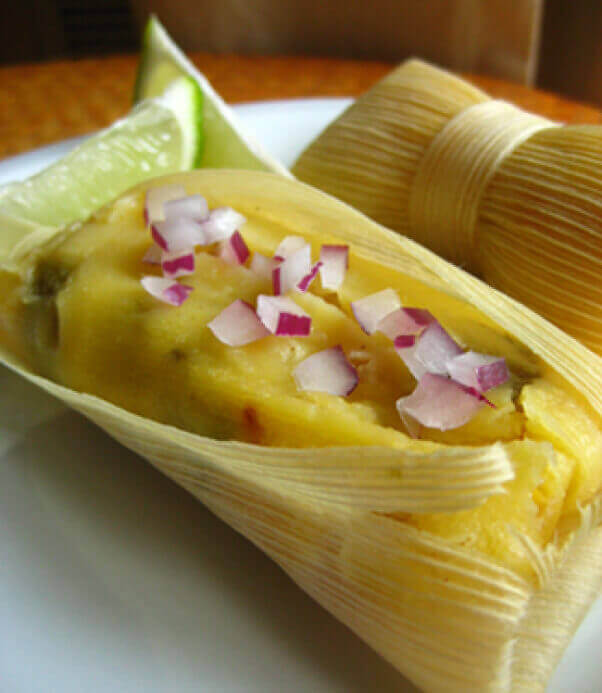 Print
Ingredients
15

corn husks

2

Anaheim chilies

1 1/4 cups

corn tortilla flour

1/2 cup

fine cornmeal

3/4 tsp.

baking powder

1 tsp.

salt

1 1/2 cups

water

1/2 cup + 1 Tbsp.

vegetable shortening

1/2

white onion, chopped

3/4 cup

fresh corn

1/2

red onion, thinly sliced (optional)

Lime wedges (optional)

Tomatillo salsa (optional)
Instructions
Submerge the corn husks in hot water, placing a weight on top of them to keep them submerged. Let soak for 30 minutes and then rinse. Cover with a damp towel and set aside.
Roast the chilies on medium-high heat until the skin is charred. Place the chilies in a plastic bag, twist closed, and let sit for 10 minutes. Gently remove the skins, the stem, and the seeds. Chop the pepper flesh and set aside.
Whisk together the corn flour, cornmeal, baking powder, and salt in a large bowl. Slowly pour in the water, mix slightly, and then let stand for 5 minutes. Add the 1/2 cup shortening and mix together using a spoon or an electric mixer. Set aside.
Heat the remaining tablespoon of shortening over medium heat. Add the white onion and sauté until tender. Add the chopped chilies and the corn and cook for about 6 minutes. Remove from the heat and let cool completely before adding to the corn flour mixture.
When ready to assemble, stir the cooled vegetables into the corn flour mixture. Place one corn husk at a time on a flat work surface and scoop 1/4 cup of the filling into the center. Fold the narrow end up to the center, then fold both sides together to enclose the filling. Tie the tamales closed with strands of corn husk.
Stand the tamales up in a large steamer or colander with the open end up. Steam for 35 minutes, or until the filling is firm.
To serve, slice open the corn husk (or completely remove the husk) and top the filling with sliced red onions, fresh lime juice, and tomatillo salsa.
Makes 15 tamales