Vegan
Pumpkin Soup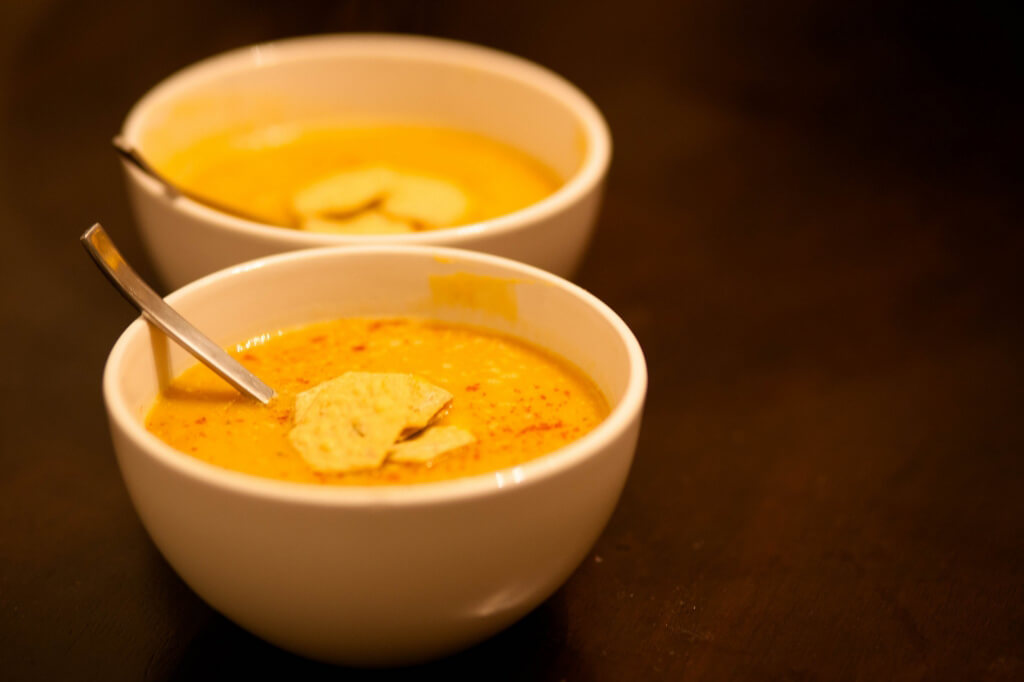 Print
Ingredients
For the Shell:
Extra-virgin olive oil sufficient to oil a baking sheet and the outside of the pumpkin (approximately 2-4 Tbsp.)

1 medium

squat cooking pumpkin

1 tsp.

sea salt
For the Soup:
4 Tbsp.

extra-virgin olive oil

2 cups

finely chopped onions

2

green onions, tops included, thinly sliced

1/2 cup

finely chopped celery

1

green chili pepper, chopped

6 cups

vegetable stock

1

bay leaf

1 1/2 tsp.

ground cumin

1 cup

plain soy milk

1 Tbsp.

cornstarch

1/2 cup

cooked wild rice

1/2 tsp.

sea salt

1/2 tsp.

ground black pepper

1 bunch

fresh parsley, roughly chopped
Instructions
For the Shell:
• Preheat the oven to 325°F.
• Lightly oil a baking sheet.
• Clean the pumpkin thoroughly and pat dry.
• Cut around the stem to make a lid. Scoop out the seeds and the stringy fibers.
• Lightly oil the pumpkin inside and out and sprinkle the inside with the salt.
• Place the pumpkin and the lid on the prepared baking sheet. Bake for 1 hour to 1 1/2 hours, or until slightly soft. (An overbaked shell will not support the weight of the soup, so underbaking is preferred.)
• Remove from the oven and cool.
• Gently scoop some of the soft pumpkin from the wall and the lid, being careful not to puncture the shell. Set the shell aside.
• Purée the pumpkin meat. Set aside.
For the Soup:
• In a large saucepan, heat the olive oil. Add the onions, celery, and chili pepper. Sauté until the onions are translucent.
• Add the stock, 2 cups of the reserved pumpkin purée, the bay leaf, and the cumin. Bring to a boil. Reduce the heat and simmer, uncovered, for 20 minutes, stirring occasionally.
• Remove the bay leaf. Add the soy milk and the cornstarch and whisk until smooth. Cook over low heat for 5 minutes.
• Stir in the rice and cook for an additional 5 minutes.
• Add the salt and the pepper.
To Serve:
• Ladle the hot soup into the pumpkin shell.
• Garnish with the parsley and replace the lid.
• Serve hot.