Vegan
Enchilada Bake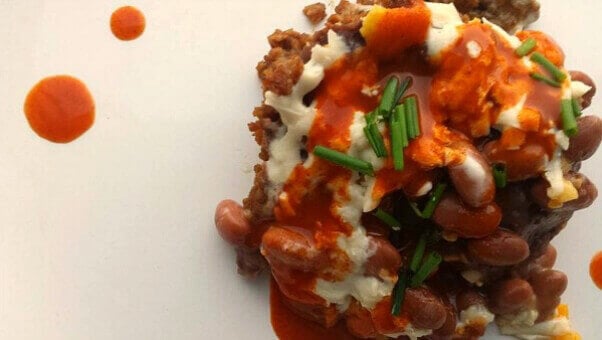 Print
Ingredients
12 oz.

vegan burger crumbles

1 packet

taco seasoning

2 15.5-oz. cans

enchilada sauce

18

corn tortillas

2 15.5-oz. cans

pinto beans, drained

2

green onions, chopped

2 cups

vegan cheddar cheese, shredded

1 4.5-oz. can

diced green chilies

2 cups

Fritos corn chips, finely crushed
Instructions
Preheat the oven to 375°F.
In a small bowl, combine the burger crumbles and taco seasoning and set aside.
Spray a 9-inch by 13-inch pan with oil.
In layers, spread a generous amount of enchilada sauce, 6 corn tortillas, 2 cans of pinto beans, a handful of green onion, a third of the shredded "cheese," half the can of green chilies, lots more enchilada sauce, 6 more tortillas, all the seasoned burger crumbles, another third of the "cheese," the remaining green chilies, more enchilada sauce, then the final 6 tortillas, more enchilada sauce, and the rest of the "cheese." Cover in foil and bake for 30 minutes.
Remove the foil, top the entire casserole with the Fritos, and bake for another 15 to 30 minutes or until bubbly and browned.
Makes 6 servings