Vegan
Eggplant and Portobello Pasta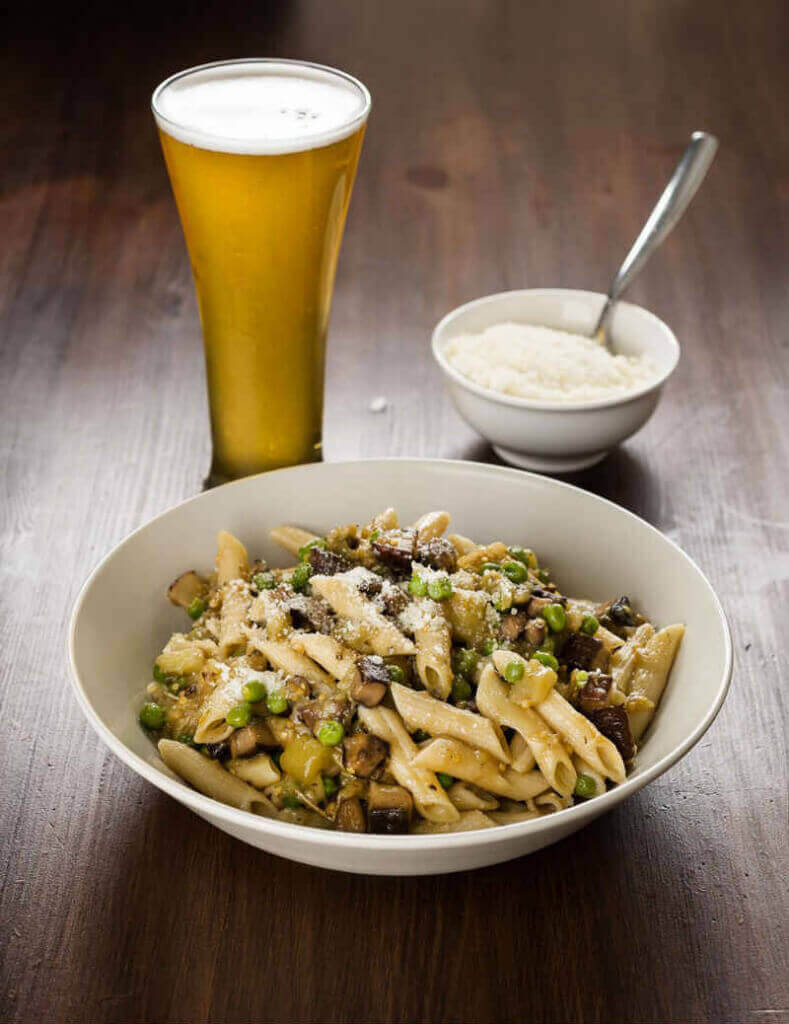 Print
Ingredients
1/2 cup

extra-virgin olive oil

4-6

portobello mushroom caps, gills scraped out and sliced into bite-size pieces

1

medium white eggplant, peeled and diced

Salt, to taste

Freshly ground black pepper, to taste

1 cup

beer of your choice, preferably the same beer that you're pairing with the dish

1/2 tsp.

dried rosemary

1 cup

frozen peas. thawed

1 lb.

penne pasta, cooked according to the manufacturer's directions and kept warm

4–5 cups

vegan Parmesan cheese, grated
Instructions
Heat the olive oil in a medium-size skillet over medium heat. Add the mushroom pieces and sauté for 3 minutes, stirring often.
Add the eggplant and season with the salt and pepper. Stir often and cook for approximately 8 to 10 minutes, or until the eggplant cubes become tender.
Add the beer and rosemary, bringing the mixture to a boil. Cook until the liquid is reduced by half, about 6 to 8 minutes.
Add the peas and simmer, covered, for 2 minutes. Stir in the pasta, cooking for approximately 30 seconds, or until the pasta is warmed through.
Garnish each serving with vegan Parmesan cheese.
Makes 6 to 8 servings
Adapted from The Ultimate Beer Lover's Happy Hour by John Schlimm. Suggested Beer Pairings: Vienna lager, golden ale, American wheat ale.