Vegan
Vegan Red-Velvet Chocolate Lava Cake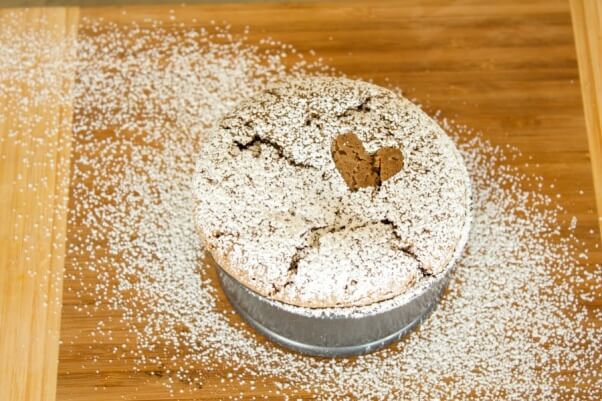 Print
Ingredients
2 1/2 cups

all-purpose flour

1 1/2 cups

sugar

1 tsp.

baking soda

1 tsp.

salt

1 tsp.

cocoa powder

1 cup

vegetable oil

1 cup

nondairy milk mixed with 1 Tbsp. lemon juice

2 Tbsp.

ground flaxseed mixed with 6 Tbsp. water

1/2 cup

beet juice from a can of beets

1 tsp.

apple cider vinegar

1 tsp.

vanilla extract

1 bar

vegan dark chocolate baking squares

Powdered sugar, for garnish
Instructions
Preheat the oven to 350°F and line an 8-inch cake pan with parchment paper.
Combine the flour, sugar, baking soda, salt, and cocoa powder in a large bowl. In a separate bowl, mix together the oil, nondairy milk mixture, flaxseed mixture, beet juice, apple cider vinegar, and vanilla extract. Pour the wet mixture into the dry mixture and stir until smooth. Pour into the cake pan and insert the chocolate squares evenly throughout.
Bake for 25 to 30 minutes. Let cool and sift powdered sugar through a fine-mesh strainer to decorate the top.
Makes 6 servings
Note: PETA promotes a healthy plant-based lifestyle. This recipe is a special treat that proves that anything can be made vegan. If you choose to enjoy this dish, please do so in moderation.
[peta-video youtube="m0YYCYFjBGg"]