Vegan
Marco Borges' Butternut Squash and Spinach Lasagna Roll-Ups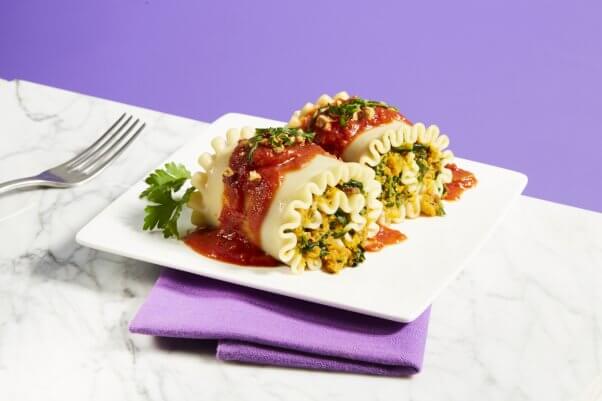 Print
Ingredients
3

cups butternut squash, cubed

2

tsp. olive oil (optional)

2

cloves garlic, minced

1

shallot, minced

2

cups frozen spinach

Salt and pepper, to taste

4

whole grain lasagna noodles, cooked

2

cups marinara sauce

1/2

cup fresh basil, sliced into thin ribbons

1/4

cup sunflower seeds, lightly toasted (optional)
Instructions
Toss the cubed squash in the olive oil (if desired) and a sprinkle of salt. Roast at 350°F for 25 minutes, or until soft and golden brown on one side.
Cook the garlic, shallot, and spinach in a saucepan over low heat until warm. Add a touch of water if needed to prevent sticking and browning.
Mash the squash with the spinach. Season with the salt and pepper.
Lay the noodles flat. Spread the spinach and squash mixture evenly on one side. Starting at one end, roll each noodle up tightly.
Place the roll-ups in a pan and cover with 1 1/2 cups of the marinara. Bake at 400°F for about 15 minutes, or until fragrant and browned.
Remove from the oven and cover with the remaining marinara. Top with the basil and sunflower seeds.
Makes 2 servings
Find more vegan recipes at 22DaysNutrition.com.