Vegan
Bryant Terry's Spinach Salad with Blackened Chickpeas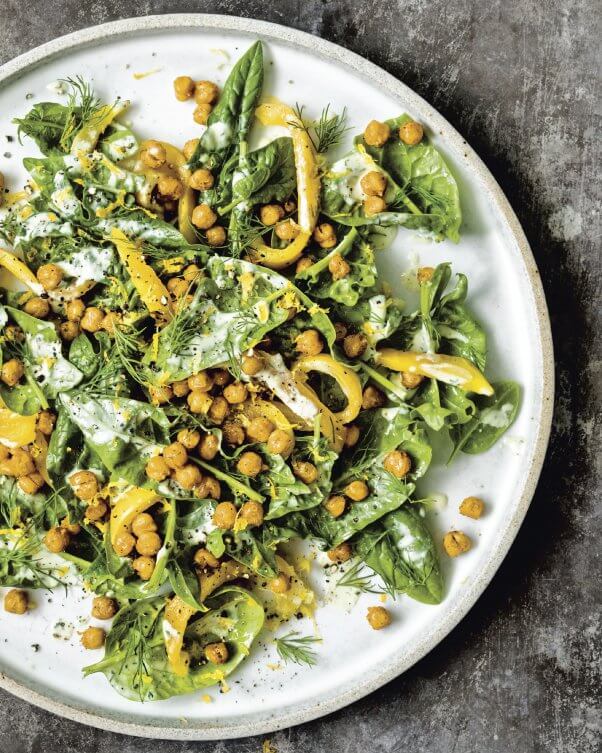 Print
Ingredients
For the Spinach Salad with Blackened Chickpeas:
3/4 cup

silken tofu

2 Tbsp.

minced shallots

1 Tbsp.

minced fresh dill

1 Tbsp.

fresh parsley

1/4 tsp.

Dijon mustard

1/2 tsp.

kosher salt plus more, to taste

Freshly ground white pepper, to taste

1 15.5-oz. can

chickpeas

2

large yellow bell peppers

1 Tbsp. plus 1 tsp.

safflower oil

2 tsp.

Blackened Seasoning (recipe follows)

3/4 lb.

spinach, torn into bite-size pieces

1/2

lemon

Lemon zest and dill fronds for garnish
For the Blackened Seasoning:
2 Tbsp.

paprika

1 Tbsp.

cumin seeds, toasted

2 tsp.

coriander seeds, toasted

2 tsp.

whole black peppercorns

1 1/2 tsp.

coarse sea salt

1 1/2 tsp.

garlic powder

1 tsp.

whole white peppercorns

1 tsp.

onion powder

1 tsp.

dried thyme

1/2 tsp.

cayenne pepper or to taste
Instructions
For the Spinach Salad with Blackened Chickpeas:
To make a dressing, combine the tofu, shallots, dill, parsley, and mustard in a blender. Purée until creamy then season with salt and pepper to taste. Set aside.
Drain the chickpeas in a colander, thoroughly rinse in cold water, and set aside on a kitchen towel to dry for 1 hour.
Roast the bell peppers until the skin is charred. Peel off the skin then cut off the stem and remove the core. Seed and thinly slice then set aside.
Once the chickpeas are dry, preheat the oven to 350°F. Line a rimmed baking sheet with parchment paper.
Transfer the chickpeas to a large bowl, add 1 tablespoonful of the oil and 1/2 teaspoonful of the salt, and toss well to combine. Spread in one even layer on the baking sheet. Bake, shaking the pan every 15 minutes to ensure even cooking, until golden brown and starting to turn crispy, about 45 minutes.
Immediately transfer the chickpeas back to the bowl, drizzle with the remaining teaspoonful of oil, and sprinkle with the blackened seasoning. Toss well to combine, transfer back to the baking sheet, and set aside to cool for 15 minutes.
Place the spinach and bell peppers in a salad bowl. Squeeze the lemon over the bowl, lightly sprinkle with salt, and toss to combine. Stir the dressing a few times then lightly dress the vegetables. Add the chickpeas, season with pepper, and lightly drizzle with more of the dressing. Garnish with lemon zest and dill fronds.
For the Blackened Seasoning:
Combine all the ingredients in a mortar or spice grinder and grind into a fine powder.
Transfer to a jar and seal tightly. Store at room temperature for up to 2 weeks.
Makes 4 servings
Adapted and published by permission of Bryant Terry.