Vegan
Black Eyed Peas & Veggie Medley
Prep Time

10 minutes

Cook Time

10 minutes

Servings

3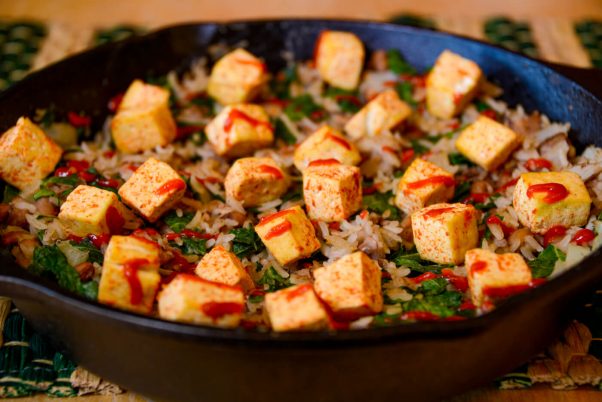 Print
Ingredients
1/2

pkg. of 14 oz. extra firm tofu

2

Tbsp. oil

1/4

onion, chopped

1

1/2 cups rice, cooked (a microwavable bag of rice works fine)

1

can black-eyed peas

2

cups collard greens, chopped (frozen works fine)

1

pkg. smoked tofu, cubed

1

tsp. salt

Hot sauce, to taste

Cooking spray, for tofu
Instructions
Use a tofu press to drain the tofu. Alternatively, wrap in a kitchen towel and place between two plates with a heavy book on top for 30 minutes, replace the towel with a fresh one, and repeat.
Preheat the oven to 400°F.
Cut the tofu into 1-inch cubes and arrange in a single layer on a large parchment-lined baking sheet. Lightly spray with cooking spray. Bake for 20 minutes, flip, then continue baking until golden brown and crisp, about 20 more minutes.
Add the oil to a pan over medium heat. Add the onion and stir for 1 minute.
Add the rice and black-eyed peas. Sauté for 3 minutes, stirring often.
Add the collard greens and salt and stir for a few minutes, until cooked through. Top with baked tofu.
Serve with hot sauce and enjoy!