For Immediate Release:
November 6, 2023
Contact:
Sara Groves 202-483-7382
Eureka, Calif. – During the "Mayor's Reports" portion of tomorrow's city council meeting, PETA will present Eureka with a first-of-its-kind Fish Empathy Quilt and deliver a brief presentation on the importance of respecting fish and other marine life and leaving aquatic animals in the ocean, where they belong. Three of the enormous quilt's panels will be displayed outside the Council Chambers at Eureka City Hall for one month. The presentation follows positive communication between the group and Mayor Kim Bergel about promoting compassion toward fish and other animals.
When:    Tuesday, November 7, 6 p.m.
Where:    Council Chambers, Eureka City Hall, 531 K St., Eureka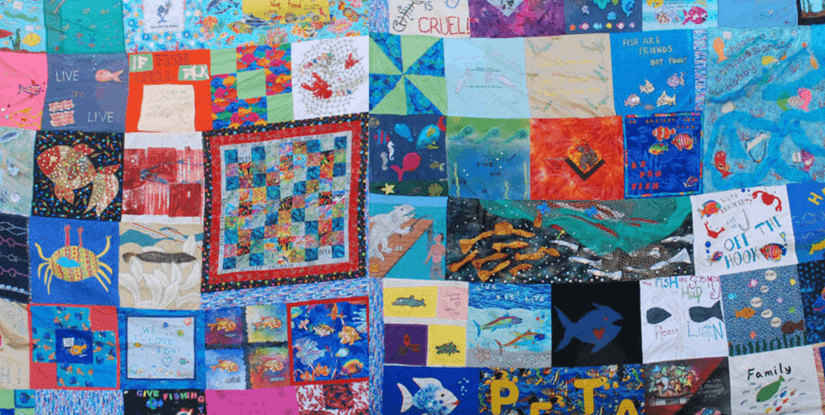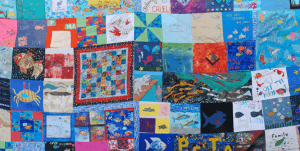 Panels from PETA's Fish Empathy Quilt. Photo: PETA
"Fish are intelligent, empathetic, and playful beings who deserve the same consideration and compassion as humans, dogs, and every other animal," says PETA President Ingrid Newkirk. "PETA thanks Eureka for helping to pay tribute to the billions of aquatic animals killed each year in the fishing industry and tip the scales toward humane vegan meals."
The quilt measures more than 300 square feet and is composed of more than 100 unique, handcrafted squares from PETA members and supporters, including cartoonist Harry Bliss and oceanographic explorer and film producer Jean-Michel Cousteau.
PETA—whose motto reads, in part, that "animals are not ours to eat"—opposes speciesism, a human-supremacist worldview, and offers a free vegan starter kit on its website.
For more information, please visit PETA.org, listen to The PETA Podcast, or follow the group on X (formerly Twitter), Facebook, or Instagram.