For Immediate Release:
August 31, 2022
Contact:
Megan Wiltsie 202-483-7382
Wilton, Conn. – Sixty percent of households with kids are specifically seeking out vegan foods—so PETA Kids sent a letter today to toy manufacturer Melissa & Doug's cofounders, Melissa and Doug Bernstein, known for their food playsets, asking them to create one that features only vegan meats, milks, and other animal-free foods. The group points out that the new playset would appeal to families who choose vegan meals out of concern for animals, the environment, their own health, or their religion and offers to match each set sold with a vegan food donation to children in need.
PETA Kids' letter includes a mock-up of an all-vegan playset, complete with a package of tofu, dairy-free milk and butter, and a veggie burger.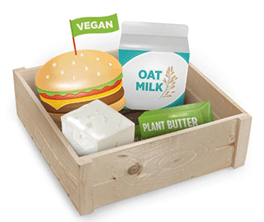 "Children have a natural affinity for animals, and vegan foods empower them to help protect sensitive cows, chickens, and pigs," says PETA Senior Director of Youth Programs Marta Holmberg, the mother of a preschooler who "adores" Melissa & Doug toys. "PETA stands ready to help Melissa & Doug create a new toy food set that's inclusive of all kids and fosters kindness to animals."
Children are less likely than adults to perceive animals as sources of food or to see a moral hierarchy between humans and other animals, according to a recent study. Additionally, children playing with Melissa & Doug toys today are growing up amid a climate catastrophe—and every person who goes vegan not only slashes their carbon footprint but also saves the lives of nearly 200 animals each year.
PETA Kids—whose motto reads, in part, that "animals are not ours to eat"—opposes speciesism, a human-supremacist worldview. For more information, please visit PETAKids.com or follow the group on Facebook or Instagram.
PETA Kids' letter to the Bernsteins follows.
August 31, 2022
Melissa and Doug Bernstein
Cofounders
Melissa & Doug
Dear Mrs. and Mr. Bernstein:
Hello! I'm writing on behalf of People for the Ethical Treatment of Animals U.S.—PETA entities have more than 9 million members and supporters globally, including many thousands across Connecticut (a significant number of whom are parents and their children)—to applaud the work you do and the happiness that Melissa & Doug toys bring children. I'm the mom of a preschooler who has (and adores) several of your toys. Would you please consider creating a food playset (similar to this example we've mocked up) that features plant-based meats, milks, and other vegan foods?
Many families don't consume animal-derived foods for religious, health, or environmental reasons and would certainly appreciate toys that reflect their lifestyle. Since plant-based foods are becoming increasingly popular, the number of vegan children will only continue to rise. Studies show that 60% of households with kids are buying plant-based foods and that parents in 80% of that group are feeding vegan foods to their children. There's no denying that the number of vegans is constantly growing.
Additionally, every vegan spares nearly 200 animals per year—and we're certain that Melissa & Doug fans would get behind such compassion. There's no easier way to help animals and prevent suffering than by choosing vegan foods over meat, eggs, and dairy. Although most people have less direct experience with pigs, cows, chickens, and fish than they are with dogs and cats, animals used for food are just as intelligent and able to suffer as the animals we share our homes with.
Your new toy set could include a package of tofu, nondairy milk, vegan nuggets, and veggie burgers along with fruits, vegetables, beans, and dairy- and egg-free desserts. Or you might consider a Combine & Dine Dinner with exclusively vegan proteins, sides, and desserts. It would mean a lot for vegan kids to have a toy food set that doesn't have a steak in it or a cow on the milk carton. For every all-vegan toy food set sold, PETA would donate vegan foods to children in need through Food for Life Global. We'd love to discuss this idea in further detail. We'd promote the toy set heavily and do all we could to help ensure its success. Thank you for your consideration. We look forward to hearing from you.
Very truly yours,
Marta Holmberg
Senior Director
PETA Kids