AMC Series Uses CGI and Animatronics in Stark Contrast to CBS's Zoo
For Immediate Release:
July 27, 2016
Contact:
Moira Colley 202-483-7382
Los Angeles – When The Walking Dead Season 7 trailer hit San Diego Comic-Con on Friday, fans were blown away by Shiva the tiger—who, showrunners were quick to point out, was created through animatronics and computer-generated imagery. "There's no real tiger at all, it's all magic," series creator Robert Kirkman told fans.
The move—which comes as CBS is under fire for using numerous wild animals, including a tiger and a polar bear, in its series Zoo—has netted The Walking Dead an Innovation in Television Award from PETA.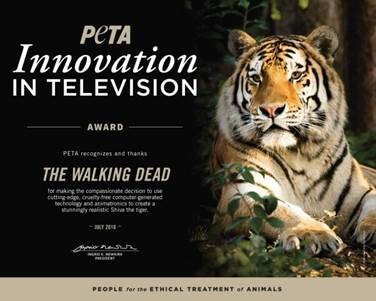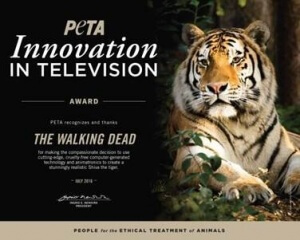 "By choosing the excitement of cutting-edge technology instead of captive animals, The Walking Dead has won the respect of everyone who objects to condemning wild animals to live chained and in cages as well as making them perform under the threat of a whip," says PETA Senior Vice President Lisa Lange. "PETA will press all television networks to follow AMC's compassionate lead."
More than 60,000 people have written to CBS to demand that Zoo stop using wild animals. Last season, Zoo used big cats, a bear, wolves, and two baboons, among many other animals. CBS dropped plans to use infamous trainer Michael Hackenberger only after PETA—whose motto reads, in part, that "animals are not ours to use for entertainment"—alerted producers that he had been caught on cameramercilessly whipping a tiger. Hackenberger has since been charged with five counts of cruelty to animals.
For more information, please visit PETA's website AnimalsInFilmAndTV.com.