For Immediate Release:
September 7, 2023
Contact:
Sara Groves 202-483-7382
Norfolk, Va. – PETA's fieldworkers knew little dog Ada well, visiting her for a decade and always finding her tied up outside, her skin pulled painfully tight from the heavy mats in her neglected fur. But as a new PETA video released today shows, Ada finally left that lonely life behind after PETA was granted permission to rescue her, and today she's a cherished member of a family—and the best friend of a little girl named Eliot.
Over the years, PETA's fieldworkers did what they could for Ada, bringing her to one of the group's mobile clinics to have her spayed, repeatedly grooming her and shaving her matted fur, and pleading for her owner to let her live indoors with him or allow PETA to find her a new home. Finally, he agreed to let her go. After a sorely needed bath and grooming, Ada went home with PETA's shelter manager, Hollie Wood, where she formed an instant bond with Eliot, Hollie's 7-year-old daughter. Now, instead of being alone by the propane tank, Ada curls up with Eliot in a warm bed, snuggles with her on the sofa, and jumps into the car to go pick her up from school—and she isn't looking back. "It's like she hasn't even thought about her former life," Hollie says, "and I'm so happy that we can give that to her."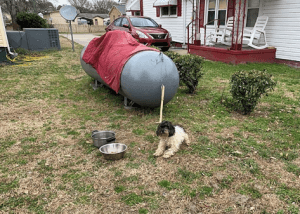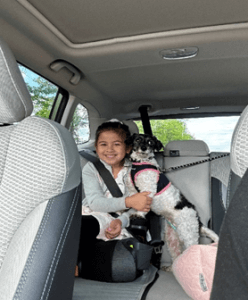 Ada tethered to a propane tank, and today, with her best friend, Eliot
"PETA's fieldworkers were determined to give Ada a chance at a real life, and they never gave up on her," says PETA Senior Vice President Daphna Nachminovitch. "After 10 long and lonely years, she finally has a best friend and a family of her own that knows every dog should be kept inside, cared for, and loved." PETA's work to free other dogs from abuse and neglect continues every day.
Although Ada is now safely indoors, countless other dogs are kept chained and/or penned outdoors 24/7, neglected, and mistreated. Every year, PETA's rescue team finds dead or dying dogs confined to pens and/or with heavy chains around their necks. Dogs kept penned or chained outdoors often go without adequate food, water, shelter, and veterinary care and are limited to the same few square feet of space day in and day out. Chained dogs have frozen to death during cold snaps or died from heatstroke on sweltering summer days. Already this year, at least 135 animals have reportedly died from heat-related causes across the country, which is more than double the number of heat-related deaths reported last year or any other year on record.
PETA—whose motto reads, in part, that "animals are not ours to abuse in any way"—opposes speciesism, a human-supremacist worldview. For more information, please visit PETA.org, listen to The PETA Podcast, or follow the group on X (formerly Twitter), Facebook, or Instagram.