For Immediate Release:
October 4, 2023
Contact:
Moira Colley 202-483-7382
Indianapolis – Owner of the NFL's Indianapolis Colts and philanthropist Jim Irsay has things to say when it comes to kindness to animals, and in a just-released, exclusive video interview with PETA, he talks about the motivation behind his decisions—such as veganizing his private plane, the Blue Vegan, and his love for Drake, the "God-given" dog at the heart of it all.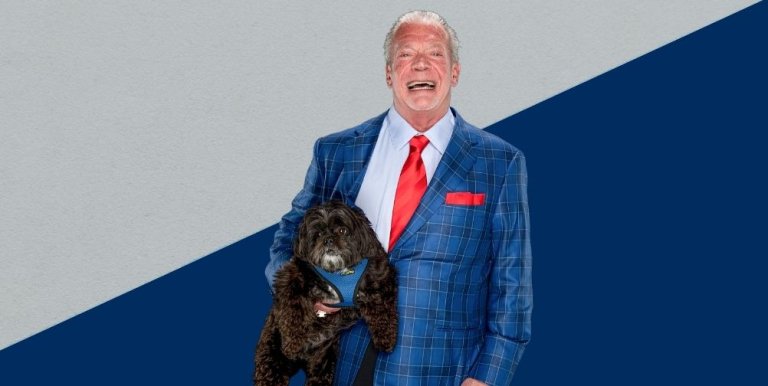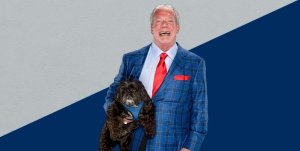 Photo courtesy of Indianapolis Colts
Photo courtesy of the Indianapolis Colts
Irsay has taken his vegan way of life to new heights—literally. His private plane, the Blue Vegan, has undergone a total transformation, with every bit of leather and wool in the carpets, seats, and walls replaced with animal-free materials, such as vegan leather—all of it imprinted with the Colts logo. "I think it's exciting because people see this beautiful aircraft and it's, 'Wow, it's so cool,' but then it raises awareness towards such a good cause," he explains. And under his watch, Lucas Oil Stadium's culinary options have flourished: Now offering everything from tasty vegan chicken tenders to smoked tofu couscous and cauliflower "wings," the stadium has become one of the most vegan-friendly NFL venues in the nation, thanks to him.
Moved to action after watching Avatar: The Way of Water, Irsay previously pledged $20 million to help relocate an aging orca, Toki (also known as Lolita), from a concrete tank at the Miami Seaquarium to a seaside sanctuary in her home waters where she was abducted 53 years ago. Sadly, she passed away in August after spending more than five decades in captivity, but through Irsay's pledge, Toki's suffering gained international attention, shedding light on the plight of captive wild animals worldwide.
The secret influencer in his life? It's Drake, the beloved companion Irsay calls his "holy dog"—"God or the higher powers that be, they sent Drake. That's obvious," he says—who accompanies him everywhere, including to the Colts' training camps and games. In honor of their bond, Irsay is developing a new shelter in Indiana, called Drake's House, dedicated to providing animals in need with care and love.
"I think through caring for animals … it's like St. Francis says, 'by self-forgetting, one finds,'" Irsay says in the video. "If you truly treat others like you want to be treated … this world would be a nirvana garden."
PETA—whose motto reads, in part, that "animals are not ours to abuse in any way"—opposes speciesism, a human-supremacist worldview, and offers a free vegan starter kit on its website. For more information, please visit PETA.org, listen to The PETA Podcast, or follow the group on X (formerly Twitter), Facebook, or Instagram.