Coronavirus Pandemic Prompts 'Go Vegan, Save Animals, Save Yourself' Message
For Immediate Release:
March 18, 2020
Contact:
Brooke Rossi 202-483-7382
Omaha, Neb. – As the number of COVID-19 cases spikes and because the University of Nebraska Medical Center is treating multiple afflicted people, PETA—which notes that the novel virus originated in a meat market—has placed a pro-vegan billboard near the hospital that lists a litany of public health threats associated with using animals for food.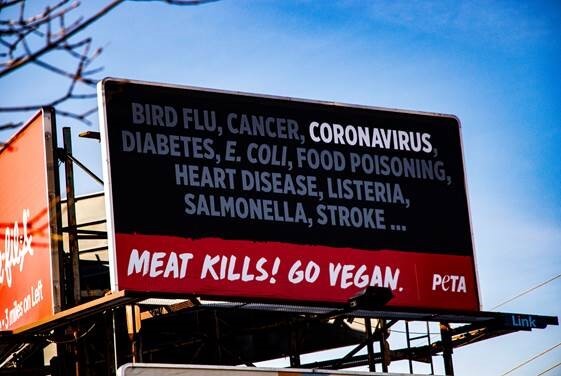 "Filthy farms and squalid meat markets are breeding grounds for disease, so PETA urges people to combat pathogens at the source by going vegan—and we're ready to help," says PETA President Ingrid Newkirk. "The way to prevent pandemics is to stop the demand for animal flesh."
COVID-19 originated in Wuhan, China, in a "wet market"—one where live and dead animals are sold for human consumption. Health authorities confirm that influenza viruses and coronaviruses are zoonotic (transmissible from other animals to humans)—and farms and markets crammed full of stressed animals are breeding grounds for such deadly maladies. Previous influenza viruses have originated in chickens and pigs.
Every person who goes vegan saves the lives of nearly 200 animals each year; reduces their own risk of suffering from heart disease, cancer, strokes, and numerous other health conditions; and significantly reduces their carbon footprint, as the meat and dairy industries are leading producers of the greenhouse gases driving the worst effects of the climate crisis.
Earlier this month, after officials reported that the virus can spread from a "kiss on your cheek," PETA halted its plans to post St. Patrick's Day ads encouraging people to kiss vegans.
The billboard is located at 117 N. Saddle Creek Rd., just 0.3 miles from the University of Nebraska Medical Center.
PETA—whose motto reads, in part, that "animals are not ours to eat"—opposes speciesism, a human-supremacist worldview. For more information, please visit PETA.org.
#