For Immediate Release:
August 16, 2022
Contact:
Nicole Meyer 202-483-7382
Davis, Calif. – A Hero to Animals Award from PETA is on its way to Kara Long, a senior at the University of California–Davis and an organizer for her school's Students Opposing Speciesism (SOS) hub, for her commitment to exposing wrongdoing at and shutting down the notorious California National Primate Research Center (CNPRC) affiliated with UC-Davis. Thousands of monkeys—including ones who may be just hours old—are psychologically traumatized, infected with deadly viruses, inflicted with painful diseases, and killed in the center's cruel and wasteful experiments.
Long, a longtime vegan because of her belief that all animals deserve to be treated with respect, teamed up with PETA to start a petition now signed by over 62,500 people calling on UC-Davis to stop experimenting on animals, hosted an on-campus protest featuring students wearing monkey costumes in cages, and gave a presentation to the student senate that persuaded it to pass a resolution condemning the CNPRC's many animal welfare violations and demanding that the center replace its monkey tests with modern, non-animal research methods.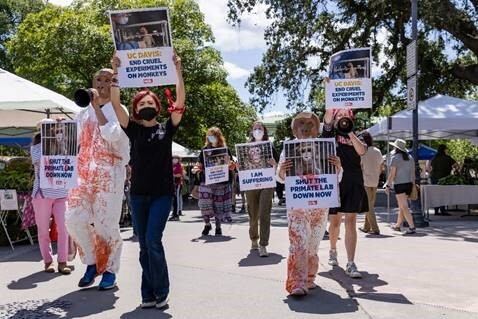 "The monkeys tormented inside the CNPRC have an indefatigable ally in Kara Long," says PETA Senior Director of SOS Rachelle Owen. "PETA salutes her for her unwavering commitment to exposing and ending monkeys' suffering and for advocating for a world free from shameful animal experiments. She will keep going until this hellhole is out of the monkey-torturing business."
Macaques at the CNPRC are purposely kept thirsty to compel them to comply with experimenters in exchange for a few drops of water or juice. Experimenters have strapped masks onto monkeys' heads and forced them to breathe in toxic inhalants. In another study, macaques were infected with SIV, a primate virus that has failed to be a surrogate model for HIV infection, leading to severe and painful symptoms—including weight loss, tremors, and skin lesions. They were all killed and dissected.
SOS is a PETA-backed, youth-led revolt against speciesism, the archaic belief that other animals are inferior and exist solely for humans to exploit.
PETA's motto reads, in part, that "animals are not ours to experiment on." For more information, please visit PETA.org or follow the group on Twitter, Facebook, or Instagram.