6abc's Cecily Tynan Rushed Dehydrated Fallen Baby Owl to a Wildlife Center
For Immediate Release:
May 26, 2016
Contact:
Megan Wiltsie 202-483-7382
Philadelphia, Pa. – A Compassionate Action Award is on its way from PETA to WPVI-TV meteorologist Cecily Tynan, who encountered a distressed baby owl while out for a jog on May 16 and rushed him to the Wildlife Clinic at the Schuylkill Center. The owl, now named Ridley, was very dehydrated, but thanks to intravenous fluids and other care from center officials, he is recovering and expected to be released back into the wild in August.
"Thanks to Cecily Tynan's quick thinking, this owlet got the care he desperately needed and will be able to grow up and thrive in the wild," says PETA Senior Vice President Lisa Lange. "PETA hopes her kindness will inspire others to come to the aid of animals in distress."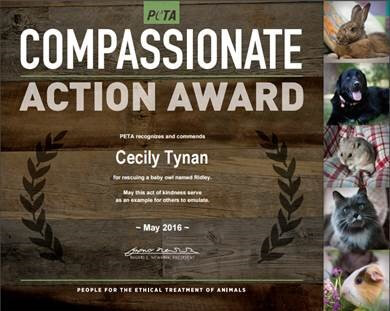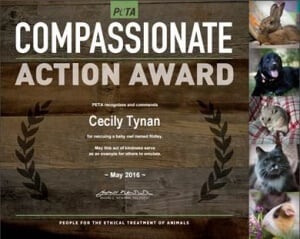 PETA—whose motto reads, in part, that "animals are not ours to abuse in any way"—offers tips for helping wildlife on its website, including a guide for saving baby birds, available here. The guide explains how to identify whether a bird is a featherless nestling who needs to be returned to his or her nest or a healthy fledgling who is safely exploring his or her environment.
Tynan will receive a framed certificate and a box of delicious vegan cookies.
For more information about helping animals, please visit PETA.org.