For Immediate Release:
October 16, 2023
Contact:
Moira Colley 202-483-7382
Los Angeles – PETA is honoring Netflix's The Fall of the House of Usher and creator Mike Flanagan with its "F*ck Around (With Animals) and Find Out" Award for spotlighting the cruelty and pointlessness of experiments on nonhuman primates and other animals in episode three, "Murder in the Rue Morgue."
In a horrifying scene, Verna—a Mephistopheles-type character played by Carla Gugino, who is mysteriously present at the deaths of each of the Usher heirs—confronts Usher daughter Camille in a lab where her sister has been experimenting on chimpanzees. Punctuated by the screams of the chimps caged around them, impressively rendered with computer-generated imagery, Verna explains the gruesome reality of vivisection: "Do you know how many animals are used for testing in a year? More than 100 million. … Ninety percent of drugs fail in human trials, even though they pass preclinical tests. So, sorry animals. … I mean, you lot can't make a lipstick or a dandruff shampoo without making something suffer." PETA points out that Verna's facts align perfectly with real data on the issue.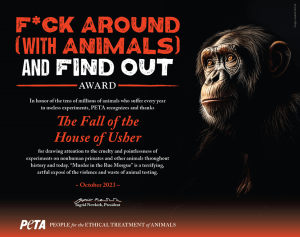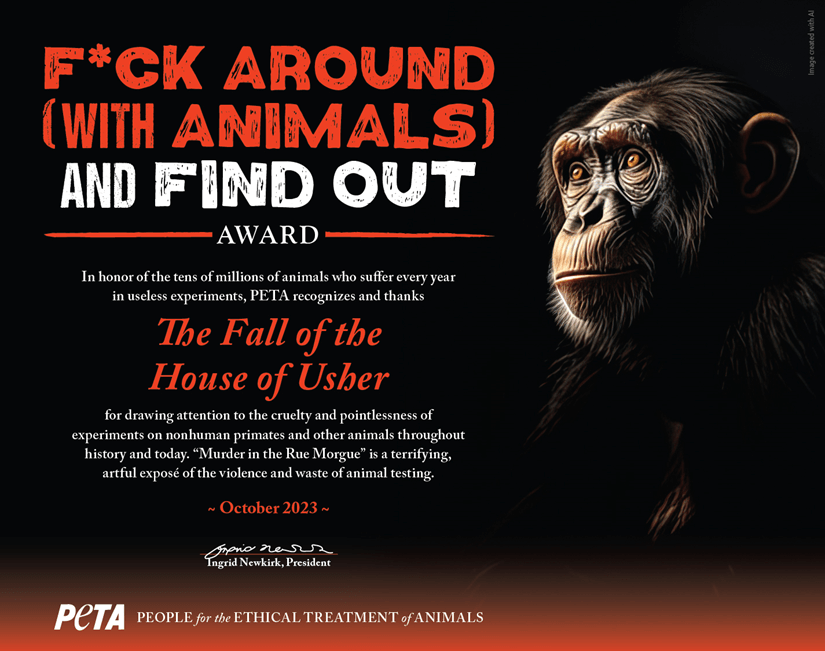 "Through Verna and lifelike CGI chimpanzees, Camille and the audience got a memorable and evocative lesson in the real-life horror, cruelty, and waste of animal testing," says PETA Director Lauren Thomasson. "PETA is celebrating Mike Flanagan's The Fall of the House of Usher for showing people the violence of animal laboratories and why animal experimentation needs to end."
Most animals—including thousands of primates—used in laboratories every year are killed after enduring a lifetime of suffering. They're held in cramped cages, often alone, and mutilated, infected with diseases, purposely bred to suffer from debilitating conditions, forced to endure multiple painful procedures, locked into restraint devices, bombarded with stimuli for prolonged periods, and frequently denied adequate food, water, and pain relief. And even though the National Institutes of Health spends nearly $20 billion per year in taxpayer funding on animal testing, studies have shown that 95% of all new drugs that test safe and effective in animals fail in human clinical trials.
PETA—whose motto reads, in part, that "animals are not ours to experiment on"—opposes speciesism, a human-supremacist worldview. For more information, please visit PETA.org, listen to The PETA Podcast, or follow the group on X (formerly Twitter), Facebook, or Instagram.