Pup Stranded Neck-Deep in Sewage Now Healthy and Happy in New Loving Home
For Immediate Release:
June 15, 2016
Contact:
Megan Wiltsie 202-483-7382
Fort Pierce, Fla. – Courtesy of PETA, a Compassionate Police Department Award is on its way to the St. Lucie County Sheriff's Office for its rescue of a dog who had fallen into a collapsed septic drain on June 7. Deputies on assignment followed the scared animal's whimpers to find him neck-deep in septic waste. After he was pulled out, the dog—who had stood on his hind legs for possibly hours to keep his head above the sewage—collapsed in exhaustion.
After several baths and a visit to the veterinarian for neutering and vaccinations, the 8-month-old Labrador–golden retriever mix was given a clean bill of health. And when no one responded to fliers posted around the neighborhood, Crime Prevention Specialist Russ Cullum of the Sheriff's Office decided to adopt the sweet pup, who is now named Puddles.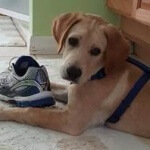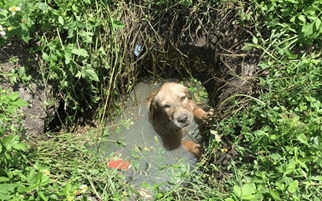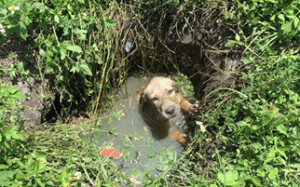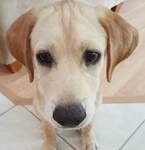 Photos courtesy of the St. Lucie County Sheriff's Office
"These kind police officers saved this puppy from a slow, lonely death and made sure that he got care, affection, and even a loving home," says PETA Vice President Colleen O'Brien. "PETA encourages caring people to take this story as inspiration to come to the aid of animals in need."
PETA—whose motto reads, in part, that "animals are not ours to abuse in any way"—notes that not all animals are lucky enough to find a home. More than 6 million unwanted dogs and cats enter U.S. animal shelters every year, and roughly half are euthanized because there aren't enough good homes for them. The best solution is to adopt and get animal companions spayed or neutered.
The St. Lucie County Sheriff's Office will receive a framed certificate and a box of delicious vegan cookies.
For more information, please visit PETA.org.