PETA India Names Rescued Bull Recuperating From a Back Injury After Animal-Loving Music Mogul
For Immediate Release:
August 14, 2020
Contact:
Moira Colley 202-483-7382
New York – Following a nasty cycling accident in which Simon Cowell broke his back, the longtime PETA supporter and America's Got Talent judge has received a unique get-well gift from PETA India: a bull! Now named Simon, the extremely handsome Brahma bull is also recovering from a back injury, which he sustained when the rope around his neck became entangled in a motorbike and both went skidding down the road.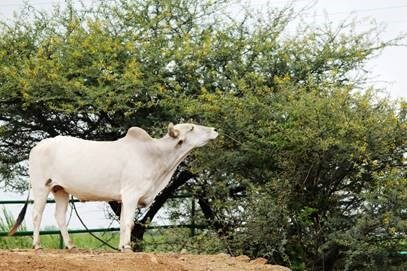 Simon the bull panicked when the accident occurred and ran, causing the motorbike to careen alongside him down the road until someone in the street caught hold of him. After being rescued and treated, he's now spending his days relaxing in the company of fellow rescued bulls at a sanctuary (above).
"Simon Cowell is a true friend to animals and to PETA who has spoken out against the cruel fur industry, has urged people never to leave dogs in hot cars, champions a vegan lifestyle, and more," says PETA India founder Ingrid Newkirk. "PETA hopes having a gentle bull on a parallel track to recovery named after him will lift his spirits as he gets back to normal, too."
High-resolution images can be downloaded here. PETA's motto reads, in part, that "animals are not ours to abuse in any way." For more information, please visit PETA.org.