PETA Joins the Greater Birmingham Humane Society in Search for Person or Persons Who Left Puppies on Busy Road and Ran Over Them When Fleeing
For Immediate Release:
August 24, 2017
Contact:
Megan Wiltsie 202-483-7382
Oak Grove, Ala. – On August 14, around 12 noon, several people were shocked to see the driver of a Chevrolet Malibu dumping a litter of seven puppies at the intersection of Little Cove Way and Alliance Road outside Birmingham. As the culprit fled the scene, he or she ran over the 7-week-old puppies, killing two of them and injuring a third, whose wounds are healing. The survivors are in good condition and are currently being kept on a police hold.
Authorities were unable to decipher the license plate of the car and have yet to determine who's responsible for dumping the puppies. That's why PETA—whose motto reads, in part, that "animals are not ours to abuse in any way"—is adding up to $5,000 to the Greater Birmingham Humane Society's $1,000 reward for information leading to the arrest and conviction of the person or persons responsible for this crime.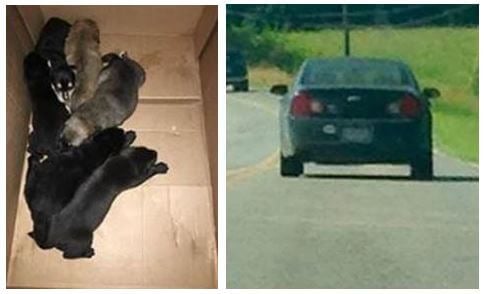 Eyewitness Footage
"If reports are true, someone cruelly discarded a litter of newborn puppies on the side of the road before crushing two of them with a car," PETA Vice President Colleen O'Brien says. "PETA urges anyone with information to come forward immediately so that whoever is responsible for this heinous act can be held accountable and prevented from hurting anyone else."
Anyone with information about this case is encouraged to contact Crime Stoppers at 205-254-7777 or the Jefferson County Sheriff's Office at 205-325-1450.
For more information about PETA, please visit PETA.org.