For Immediate Release:
August 31, 2022
Contact:
Moira Colley 202-483-7382
Los Angeles – On a normal day, musician, actor, and model Rainey Qualley might rock a fringed ball gown on the red carpet, but in a brand-new PETA campaign, she's sporting it underwater, urging fans to imagine being trapped in a tank for your whole life, like captive animals at SeaWorld.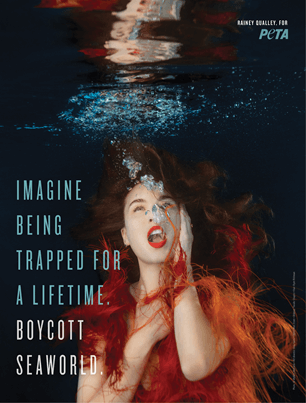 Photo: © Mallory Morrison
In an exclusive behind-the-scenes video, the Shut In star explains that orcas at SeaWorld are confined to shallow pools for life—and never get to experience the same freedom she enjoys: "I can leave and go live my life, unlike these animals [who] are being stuck in tiny tanks when they're meant to have the whole ocean."
Just this month, an orca named Nakai died at SeaWorld after being held there for 21 years. PETA also received eyewitness footage revealing a violent attack among orcas at SeaWorld San Diego, resulting in a serious wound to at least one of them. Such attacks are rare in nature, but at SeaWorld, it's not uncommon for incompatible animals to be housed in cramped tanks together—with nowhere to escape conflicts. PETA is pushing SeaWorld to release the long-suffering orcas to seaside sanctuaries, where they could dive to greater depths, swim longer distances, and engage in types of natural behavior they're currently denied.
"If you love animals, don't go to SeaWorld," Qualley pleads.
Since she comes from a family of animal lovers, including her mother, Andie MacDowell, and her sister, Margaret Qualley, it's not surprising that Rainey is a longtime animal advocate who regularly fosters kittens, promotes adopting from shelters, and encourages fans to spay and neuter their animals. She belongs to a growing list of celebrities—including Bella Thorne, Noah Cyrus, Kate del Castillo, Tommy Lee, Miguel Bernardeau, Pamela Anderson, and Krysten Ritter—who have teamed up with PETA to speak out against marine parks.
PETA—whose motto reads, in part, that "animals are not ours to use for entertainment"—opposes speciesism, a human-supremacist worldview. For more information, please visit SeaWorldOfHurt.com or follow the group on Twitter, Facebook, or Instagram.