For Immediate Release:
October 27, 2023
Contact:
Tasgola Bruner 202-483-7382
Belvaux, Luxembourg – PETA Science Consortium International e.V. donated a Tecan D300e Digital Dispenser worth US$40,000 to INVITROLIZE, a spin-off of the Luxembourg Institute of Science and Technology. INVITROLIZE offers innovative human cell–based technology to assess respiratory sensitisation. Their ALIsens® model is able to predict the likelihood of inhaled chemicals to cause an allergic reaction in the lung – without the use of animals – and differentiate between respiratory irritants and respiratory sensitisers.
The Tecan D300e Digital Dispenser is capable of very precisely pipetting tiny amounts of liquid droplets onto lung cells, mimicking the inhalation of aerosols. The donation will help INVITROLIZE to further develop its human cell–based technology and to efficiently test many chemicals, which is an important step in the Organisation for Economic Co-operation and Development standardisation process and towards global acceptance of the model.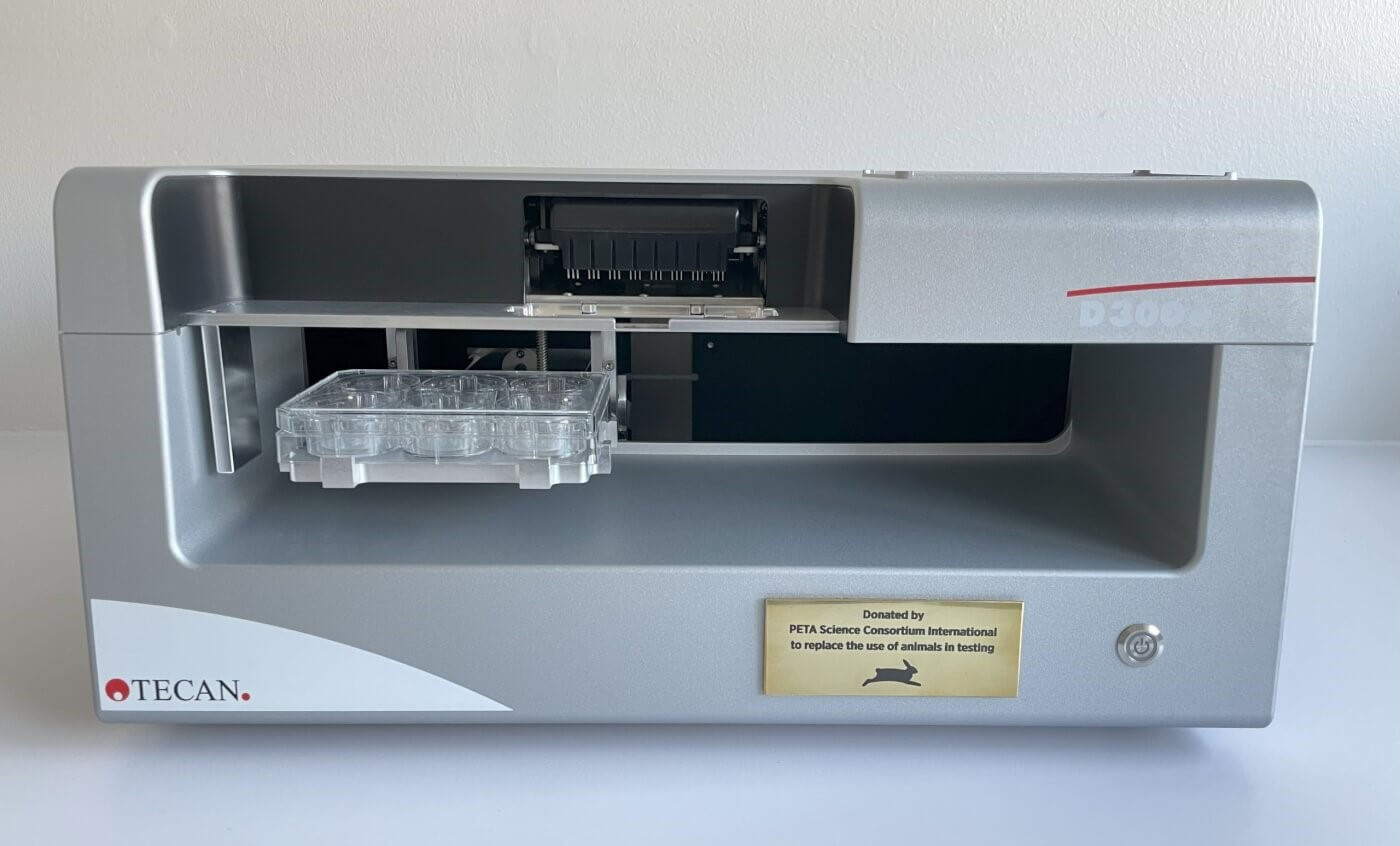 "We're pleased to offer technology to INVITROLIZE that will galvanize non-animal test methods for respiratory sensitisation," says Science Consortium President Dr Amy Clippinger. "Our donation will help INVITROLIZE offer non-animal testing services to more customers and increase scientific confidence in the method."
"This generous donation allows INVITROLIZE to expand our portfolio of chemicals that we can test for our clients to chemicals that, due to their properties, could not be tested with equipment currently available," says Prof. Arno Gutleb, founder of INVITROLIZE. "We share the Science Consortium's vision of chemical safety not relying on animal testing."
In addition to equipment donations, the Science Consortium advances non-animal toxicity testing by designing and funding method development and validation efforts, conducting data analyses, organising free webinars and workshops, and providing travel awards to scientists. For more than 10 years, the Science Consortium and its members have collaborated with government agencies and industry and has donated millions of dollars to advance non-animal testing.
For more information, please visit ThePSCI.eu or Invitrolize.com.