For Immediate Release:
August 30, 2023
Contact:
Sara Groves 202-483-7382
Los Angeles – People can choose to change the shape of their nose to boost self-esteem or improve their breathing, but French bulldogs, pugs, and other breathing-impaired breeds (BIB) have no choice: They're deliberately bred to have a flat face and a squashed, almost nonexistent, nose—a look that is literally killing them. That's the message PETA's new wallscape on Melrose Avenue that will have patients doing double-takes on their way to the plastic surgeon.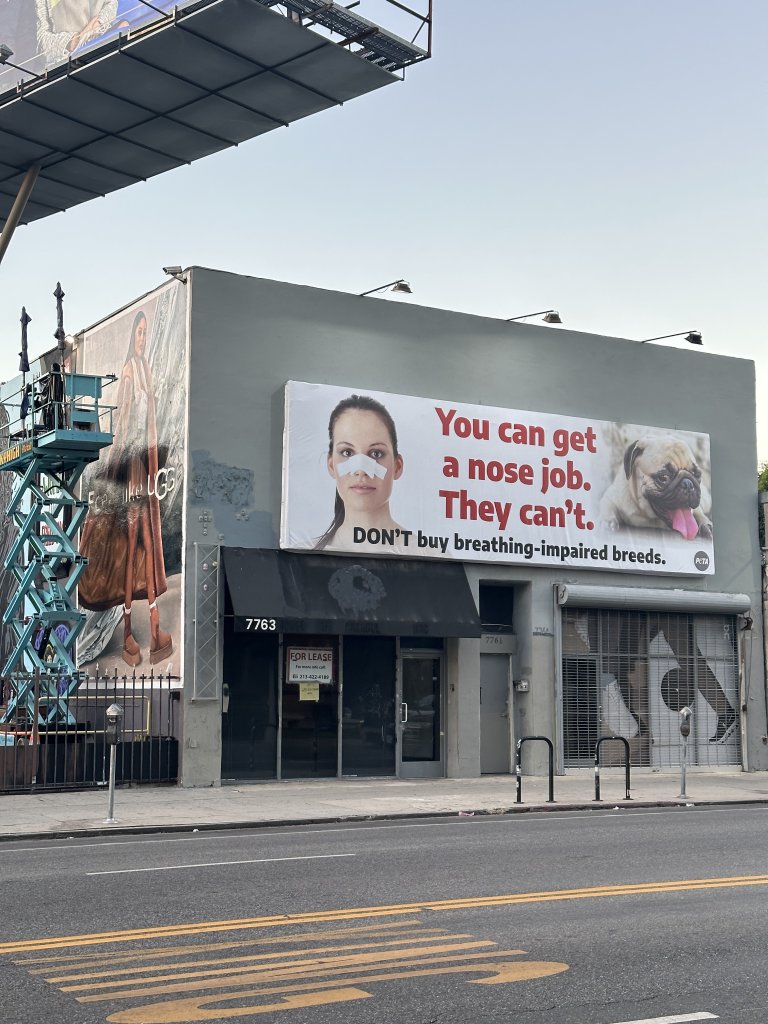 "Humans can reshape their noses however they want, but it's cruel to pugs and other BIBs to create 'cute,' distorted airways that condemn them to a lifetime of panting for air and an early grave," says PETA Executive Vice President Tracy Reiman. "PETA encourages everyone to adopt from shelters and thumb their noses at breeders and pet stores that profit from churning out generation after generation of wheezing dogs."
Who's to blame? The American Kennel Club (AKC)—a "purebred dog" registry that encourages deliberately breeding dogs to achieve a particular look, regardless of the consequences for their health. The AKC's requirements for BIBs include an "extremely short nose" (French bulldogs), the distance between the eyes and the nose "as short as possible" (English bulldogs), and a muzzle that's "short, blunt, square" (pugs).
PETA points out that the snorting, snoring, and "noisy breathing" common among BIBs are due to an uncomfortable, debilitating, and sometimes fatal condition called brachycephalic syndrome. Going for a walk, chasing a ball, running, and playing—the things that make dogs' lives joyful and fulfilling—are impossible for many BIBs, and there's no surgery to help alleviate their suffering. A number of countries—including Austria, Germany, the Netherlands, and Norway—have banned or restricted the breeding of some or all BIBs.
The billboard is located near the intersection of Melrose and N. Genesee avenues in the Fairfax neighborhood.
Guardians of "purebred," flat-faced breeds who have incurred medical expenses due to their dogs' breathing impairment are encouraged to contact PETA to participate in an upcoming lawsuit.
PETA—whose motto reads, in part, that "animals are not ours to use for entertainment or abuse in any other way"—opposes speciesism, a human-supremacist worldview. For more information, please visit PETA.org, listen to The PETA Podcast, or follow the group on Twitter, Facebook, or Instagram.