Bodybuilder Credits Meat-Free Meals With Boosting His Strength
For Immediate Release:
March 29, 2016
Contact:
Moira Colley 202-483-7382
London – Mr. Universe 2014, Barny du Plessis, strikes a pose for the camera in a new ad campaign for PETA U.K. (image available here and video here), proclaiming, "The world's strongest animals are plant-eaters: gorillas, buffaloes, elephants and me." Du Plessis—a lifelong bodybuilder—once believed that consuming vast amounts of meat and eggs was the only way to build muscle. However, a growing list of health issues made him reassess his diet and ditch the flesh for protein-packed vegan meals. Since then, his health has improved dramatically, and he's never been happier with his physique. Alongside bodybuilding vegan fiancé Josie Keck, he now competes as the world's first elite-level vegan professional bodybuilder.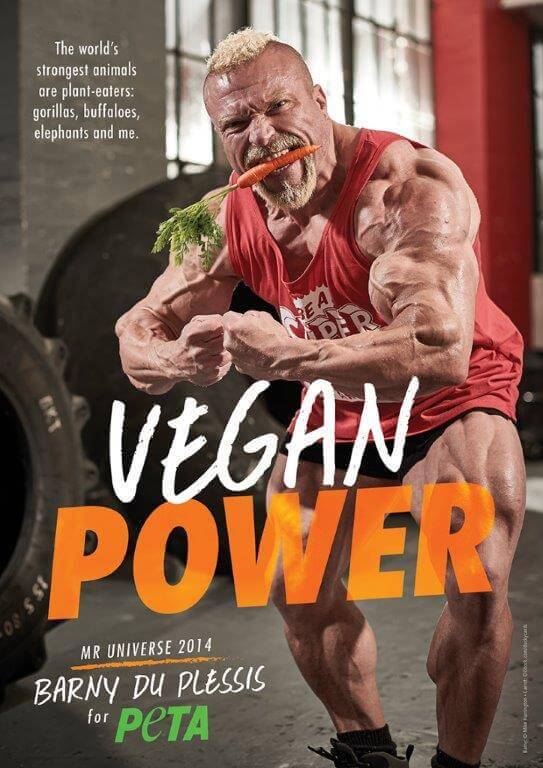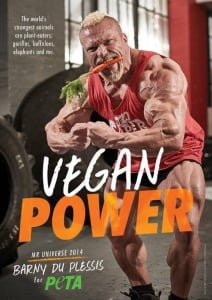 In an exclusive interview with PETA U.K., he says, "Since becoming a vegan my training has been amazing. I wake up feeling good, I've got more energy, my recovery's really good and I've got no aches and pains. Best of all, I'm not contributing to the misery, suffering and death of animals."
Going vegan is a great way to improve your health, as vegans are less prone to heart disease, strokes, diabetes, cancer, and obesity than meat-eaters are. And each person who goes vegan prevents approximately 100 animals every year from being killed on factory farms, in slaughterhouses, and on the decks of fishing boats.
Du Plessis joins a growing list of athletes—including former Mr. International Jim Morris, professional wrestler Austin Aries, MMA's Nate Diaz, and Germany's Strongest Man 2011, Patrik Baboumian, among many others—who have teamed up with PETA or PETA U.K. (whose mottos read, in part, that "animals are not ours to eat") to promote healthy and humane meat-free meals.
For more information, please visit PETA.org.