For Immediate Release:
September 28, 2023
Contact:
Moira Colley 202-483-7382
New York – In his first acting role since Succession, James Cromwell plays Ewan Roy's worst nightmare in a new PETA video released in time for National Coffee Day (September 29): a greedy, fictional Starbucks executive who exploits eco-conscious customers by charging them up to 90 cents more for vegan milk —even though the chain reported $3.3 billion in profits last year alone.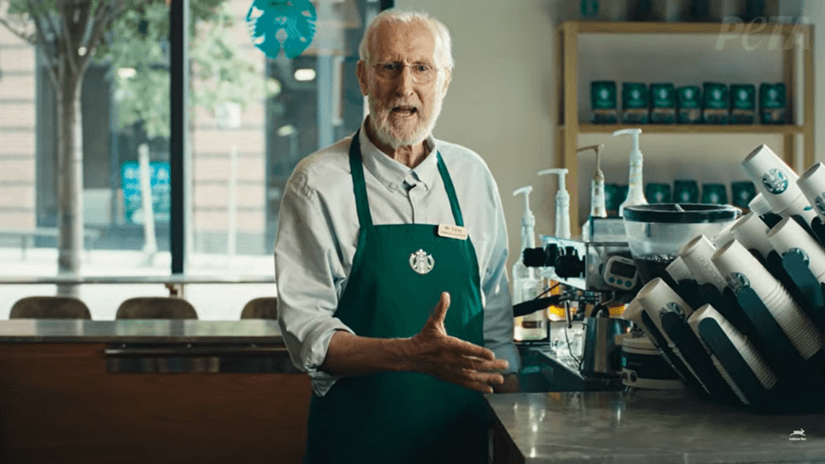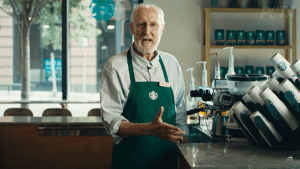 Spliced with images of cruel milking machines, baby cows being torn from their mothers, melting ice caps, and wildfires, the video features Cromwell in the chain's signature green apron explaining that Starbucks is aware of dairy's contribution to "a giant burning hellscape" and that customers choose vegan milks to slash greenhouse gas emissions. "And it's good that you pay. I mean care," he says. "Because we also have other things to care about. Like a $1.6 million cash sign-on bonus for our new CEO.
"You just keep caring about saving the world, and we'll keep caring about our savings account. Because Starbucks cares about money. Hey, it's right there in our name," he says with a smirk, handing over a latte with a dollar symbol outlined in foam.
In addition to driving the climate catastrophe, the dairy industry tears calves away from their mothers within a day of birth so the milk meant to nourish them can be stolen and sold to humans. PETA's investigations into dairy facilities have found workers electroshocking a cow in the face, hitting cows with poles and a cane, and abusing them in other ways. Once their bodies wear out from repeated pregnancies, they're sent to slaughter to be used for ground beef or dog food.
The video will air on YouTube, reaching potential customers who have googled "Starbucks." The spot was directed by Nim Shapira and produced by Noa Osheroff. Cromwell's previous campaign efforts include supergluing himself to a Starbucks counter in Midtown Manhattan to pressure the company to end the upcharge for vegan milks (which other chains offer at no extra cost).
PETA—whose motto reads, in part, that "animals are not ours to eat or abuse in any other way"—opposes speciesism, a human-supremacist worldview, and offers a free vegan starter kit on its website. For more information, please visit PETA.org, listen to The PETA Podcast, or follow the group on X (formerly Twitter), Facebook, or Instagram.